---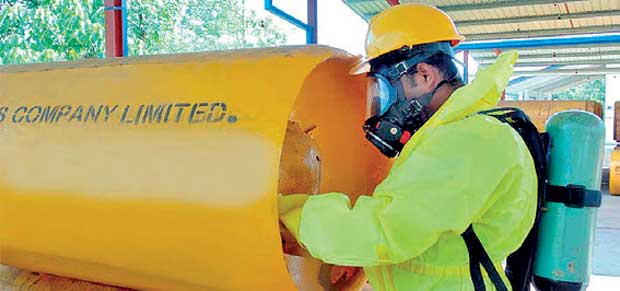 The Global Handwashing Day (GHD) is celebrated on October 15 in view of raising awareness on the importance of handwashing with soap and cultivating this as a habit which leads to disease prevention and reduction of childhood mortality related to respiratory and diarrheal diseases.
Interestingly, state-owned Paranthan Chemicals Company Limited has been instrumental in creating better hygienic conditions in Sri Lanka as it has been the sole supplier of chlorine used in national water purification and caustic soda, which is the main raw material in manufacturing soaps.
The company supplies chlorine to the National Water Supply and Drainage Board and caustic soda to reputed soap manufacturers.
The company is the pioneer and market leader in the Sri Lankan chemical industry functioning under the purview of the Industry and Commerce Ministry. This is a self-financing institution, contributing dividends to the General Treasury annually.
Paranthan Chemicals is a highly esteemed chemistry based organisation with a rich history of marketing chemicals in Sri Lanka.
The company was originally established as a state-owned chlorine-caustic soda manufacturing factory in Paranthan in the Northern Province in 1954. The main raw material used to manufacture these chemicals is salt, which is easily available in this island nation.
The company works closely with local manufacturing industries ranging from small and medium-scale to larger manufacturers. Having identified the growth potential, the company is currently focusing on the expansion drive of its business operations.
In line with the identified market demand from the leading soap manufacturers and other industries, the company has initiated a project to manufacture caustic soda lie, which is presently nearing completion stage. Once the plant is in operation, liquid form of caustic soda would be readily available, which would simplify the manufacturing operation of the local manufacturing industries and reduce the chemical hazards of these industries.
Paranthan Chemicals Company Limited also manufactures sodium hypochlorite, generally known as bleaching liquid and widely used as a disinfectant. It has been planned to increase the production capacity in order to meet the growing market demand. Establishing a plant to manufacture bleaching powder, which is also a highly sought-after chemical in water purification, is also in the pipeline.
The company is geared to re-establish the chlorine and caustic soda factory to produce the entire chlorine demand of the country locally. This would be advantageous to the nation, as we can utilize our greater oceanic resources particularly salt as the raw material which would prosper local salt industries and could reduce imports of chemicals to the country.
Presently the company markets chlorine, caustic soda, hydrochloric acid, bleaching powder and bleaching liquid.
With the supply of chemicals used in water purification and manufacturing soaps, Paranthan Chemicals reaches the life of every Sri Lankans, creating better hygienic conditions in Sri Lanka. Paranthan Chemicals Company Limited can be proud of its continued contribution made to improve quality of life of the people in Sri Lanka.