---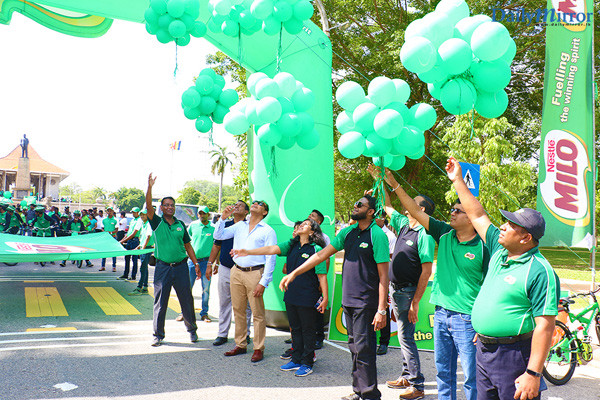 At the opening of the event. From left to right: Bandula Egodage, VP – Corporate Affairs &Communications at Nestlé; Hon. Min Dayasiri Jayasekara, Minister of Sports; and Shivani Hegde, Managing Director at Nestlé with the rest of the Nestlé team
Over 1,000 children and their families celebrated the grand finale of the popular 'Mom, Me and My Milo' campaign, painting the streets of Colombo green in a mega Milo Cycle Parade. They cycled from the Sports Ministry Grounds through the city of Colombo and back to the starting point, where celebrations continued with a grand carnival.
The event marked the third consecutive 'Mom, Me and My Milo' campaign, which ran from May to June this year. Milo fans took selfies with their moms and a Milo pack to enter a raffle draw, from which 1,000 lucky winners were selected to win Milo branded bicycles.
Said Norman Kannangara, Vice President - Beverages at Nestlé: "As a brand that strongly advocates the importance of good nutrition and an active lifestyle, we wanted to end our hugely popular 'Mom, Me and My Milo' campaign with a fun bicycle parade, to show kids that staying active can be fun too. We want to encourage children to lead a healthier lifestyle with their families by cycling, a popular activity enjoyed by many kids. We are truly overwhelmed by the fantastic consumer response we keep getting for the campaign every year. It is a reflection of the strong trust and love consumers have for the brand."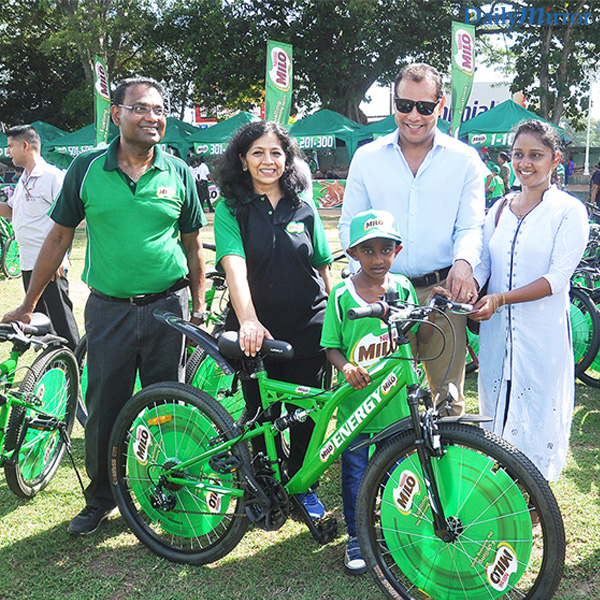 From left to right: Bandula Egodage, VP – Corporate Affairs &Communications at Nestlé; Shivani Hegde, Managing Director at Nestlé; Hon. Min Dayasiri Jayasekara, Minister of Sports; with a 'Mom, Me and my Milo' winner and his mother
As part of Milo's ambition to help nurture a healthier generation, the event focused on not only helping kids bond with their mothers but also on instilling healthy eating habits and a healthy lifestyle via games and other activities. It started off with a Breakfast Movement where mothers and kids learned about the importance of breakfast and ways in which it could be made healthier. The Breakfast Movement ended with 1,000 children and their families pledging to start the day with a healthy breakfast. The event also featured a Nestlé Nutri-Corner with free nutritional counselling.
Milo is Nestlé's world leading chocolate malt beverage, fortified with vitamins and minerals. It is made from fresh high quality milk collected from thousands of local Sri Lankan farmers, the goodness of malt and the finest cocoa beans. Committed to "Fuelling the Winning Spirit," Milo has been at the forefront of supporting school sports from grass roots level for over 30 years. Inspiring consumers to achieve their best by supporting their drive to succeed, Milo has been able to encourage hundreds of thousands of children to be physically active, and support many promising athletes in their careers.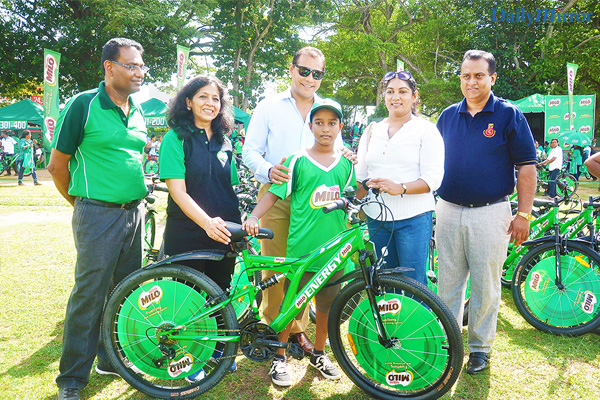 From left to right: Bandula Egodage, VP – Corporate Affairs &Communications at Nestlé; Shivani Hegde, Managing Director at Nestlé; Hon. Min Dayasiri Jayasekara, Minister of Sports; a 'Mom, Me and my Milo' winner and his mother; and Sampath Dissanayake, Coordinating Secretary to the Minister of Sports