---
Listed brush maker BPPL Holdings PLC says the Easter Sunday attacks on April 21 that dealt a severe blow to the country's tourism industry could impact the availability of waste plastic bottles, the key raw material of their filament production process. The company uses polyethylene terephthalate or PET plastic to make filaments for their brushes and polyester yarn.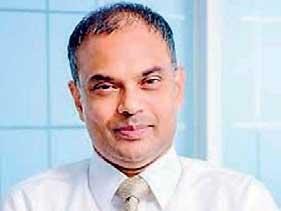 Dr. Anush Amarasinghe
"It is worth pointing out that the recent disruptions by terrorist activity and its impact on tourist arrivals to Sri Lanka could impact the availability of waste plastic bottles for recycling.
Tourists are large users of water and other beverages packaged in such bottles," BPPL Holdings Managing Director Dr. Anush Amarasinghe told shareholders in the company's annual report for FY 2018/19.

The company however expects the impact to be mitigated by the recent government directive to bottle manufacturers to produce clear water bottles as opposed to blue bottles.
"Blue bottles limit the level of recycling that can be done as we can only produce dark colour brush filaments from these bottles as opposed to clear bottles which can be dyed to any required colour," Dr. Amarasinghe said.

In fact Dr. Amarasinghe said they expect to increase their waste PET bottle collections during the new financial year to around 250 tonnes per month from an average 175 tonnes per month in FY 2018/19, which would be approximately 20 percent of virgin PET imports to Sri Lanka.

The company currently has over 250 registered PET bottle collection agents and suppliers across country and 12 bailing sites. A bailing site has machinery installed to compress/bail bottles for more efficient storage.

Meanwhile, the company said it set up a new recycling plant for non-PET based plastic materials towards the end of the financial year.

"This should also contribute towards widening profit margins as these recycled materials were being imported at a higher cost until recently. Non-PET based recycled plastic materials such as polypropylene; LDPE and HDPE are used in our plastic brush backs as well as our brush filaments.

Recycled plastics are generally less expensive than virgin plastics. It also helps to reduce any cost impact from escalating petroleum prices on our plastic brushware. Virgin plastic polymer is a derivative of crude oil and, therefore, is directly linked to global crude oil price movements," Dr. Amarasinghe said.

Over 95 percent of BPPL Holdings' production is directly or indirectly exported.

For the financial year ended March 31, 2019, BPPL Holdings recorded net profit of Rs.367.6 million on revenue of Rs.2.7 billion.