---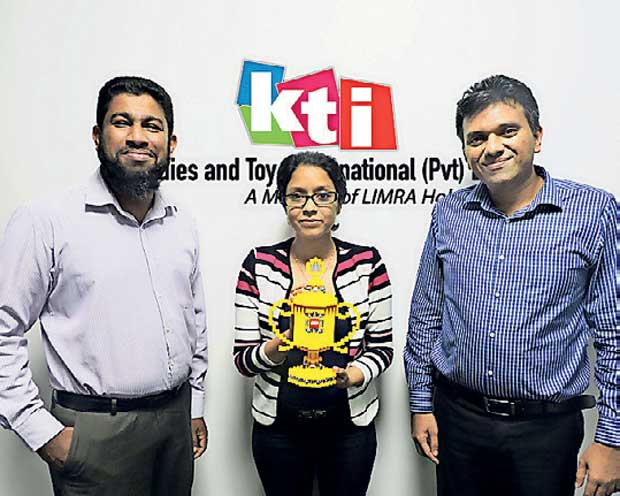 From left :Yohan Ziard, Chief Executive Officer, Kiddies & Toys International (KTI) Pvt. Limited; Dilsha Ruwanpathirana, Head of Strategic Business Unit – Toy at KTI and Nabhan Akeel, Managing Director at KTI with the award
Kiddies& Toys International (KTI) was recognized by the Lego Group for their unique engagement initiatives. The Sri Lankan company, which beat out other regional distributors for the top prize, was the recipient of the 'Best Big Bets Plans and Execution' award at the recently concluded Lego Distributor Conference for Emerging Asia 2016 which took place in Billund, Denmark.
The award was in recognition of KTI's efforts to spread the joy of Lego across Sri Lanka with the use of innovative and immersive experiences that helped children unlock their inner creativity.
"It is an honour to be recognised at this prestigious forum for our exciting events. The Lego bricks are more than just a toy. They help in the development of young minds and have always helped children express themselves. They encourage children to learn through a unique combination of logic and unlimited creativity. And this has been the reason as to why parents have always sought to incorporate Lego into their children's playtime. We merely built on this insight to give parents and children an unforgettable experience," said Yohan Ziard, CEO of KTI.
The 'Lego Day' events have regularly attracted over 150 kids and their families to have the Lego experience first hand. These events immersed children in their own imaginations allowing them to become master storytellers, engineers, and inventors in the space of a few hours. At the end of the experience those builders that proved themselves to be exceptional were given Lego sets to continue their adventure at home. However, everyone that attended left with Lego merchandise to remember the day.
"In conceiving these events we took great care to incorporate the unique elements of Lego which spoke to children. This has helped make our promotion of the brand in Sri Lanka a great success and given children across the island an unique and memorable experience. This award is further validation of our tireless efforts and we are proud to have been recognized for our approach," said Dilsha Ruwanpathirana, Head of Strategic Business Unit – Toys at KTI.
The Lego Group is a privately held, family-owned company with headquarters in Billund, Denmark, and main offices in Enfield, USA, London, UK, Shanghai, China, and Singapore. Founded in 1932 by Ole Kirk Kristiansen, and based on the iconic Lego brick, it is one of the world's leading manufacturers of play materials. Guided by the company spirit: "Only the best is good enough", the company is committed to the development of children and aims to inspire and develop the builders of tomorrow through creative play and learning.
Kiddies & Toys International (KTI) Pvt. Limited is the exclusive agent for Farlin, Lego, Barbie and Mattel brands in Sri Lanka and features an outstanding range of premium child and mother care products as well as one of the largest selections of branded toys in Sri Lanka.