---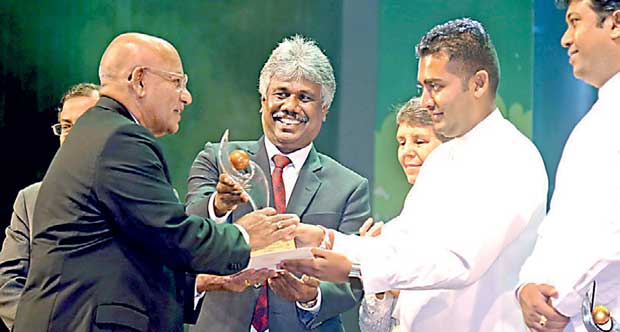 Mahinda Saranapala, Director/CEO, Kelani Cables PLC receiving the National Green Award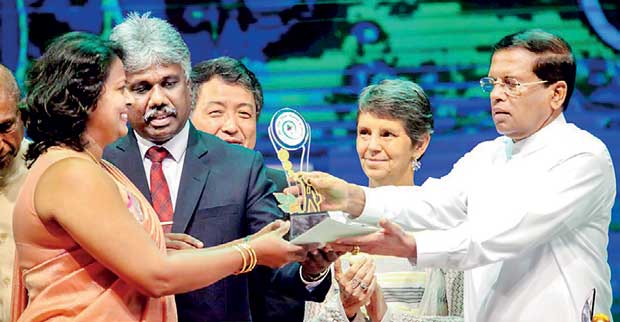 Shyama Perera, Manager - Technical Operations, Kelani Cables PLC receiving the Best Green Report Award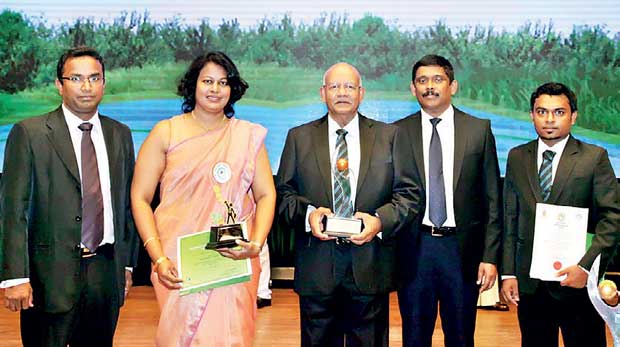 Kelani Cables team with the awards
Kelani Cables PLC was conferred with a Gold award for Best Green Report in Tier 2 category at the Presidential Environmental Awards 2016.
The company also clinched Bronze award in the Metal and Mineral Processing Industry category.
Award ceremony organized by the Mahaweli Development and Environment Ministry in association with the Central Environmental Authority was held at the BMICH with President Maithripala Sirisena as the chief guest.
Government and private sector entities along with schools that are green-oriented were recognized at the event. Kelani Cables PLC was the sole organization in the electrical and communication cable manufacturing sphere recognized at the Presidential Environmental Awards 2016.
Mahinda Saranapala, Director/CEO, Kelani Cables PLC said this gold award won at the Presidential Environmental Awards 2016 has yet again endorsed the dedicated service of Kelani Cables towards enriching the country and its people in line with green standards.
"Kelani Cables revamped in 2010 to fast track contribution towards sustainable development of the company, within a very short span was able to bag a host of local and international awards. As a company, we are dedicated to safeguard the environment. Wastage of resources and raw-material is kept at a minimal level within the parameters of the company. Kelani Cables PLC as a socially-responsible entity, under its CSR initiative went to the extent of conducting practical training sessions to University students on the importance of safeguarding the environment", he said.
Kelani Cables has the ISO 14001:2004 certification for its sound environmental practices. The company has also won the GEO Responsibility Award in 2012 and 2013 prior to becoming the silver award winner at the National Green Awards 2015.
Shyama Perera, Manager - Technical Operations, Kelani Cables PLC speaking of the company's sustainable development initiatives said the company adheres to 3R (reduce-reuse-recycle) concept. She said the company in its production processes minimizes wastage of Energy, water and raw-material.
"We constantly educate our workforce on minimizing wastage of resources. As a part of company's environmental roadmap, we have made emphasis on recycling. Copper and aluminum waste in our production processes are recycled fully. Most of other raw material that become leftovers in the production processes are reused or given to the SME sector to manufacture environmental-friendly products. Leftovers in our canteen and kitchen are directly put into the green-gas unit to produce green gas. Compost fertilizer is used on foliage in the company premises and also provided to workers who engage in growing vegetables and other crops".
Kelani Cables PLC is a one hundred percent Sri Lankan company serving the nation for 47, years manufacturing electrical and communication cables. The company achieved 'Super Brands' status in the electrical and telecommunication sector in 2008 for professional supremacy it demonstrated in the electrical and communication cables sphere.