---
April industrial production hits lowest point since last June
Industrial production in Sri Lanka fell sharply in April from March in a reflection of the damage's extent the restrictions imposed on travel and other economic activities from the third week of April have had on the manufacturing base of the country.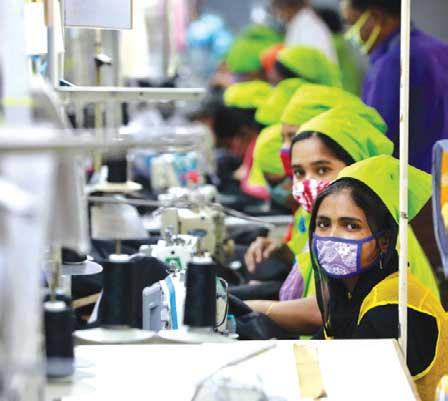 The Index of Industrial Production (IIP), a measure of the country's manufacturing heft, fell to 93.9 index points in April 2021 from 119.6 index points in March as the factories which closed for New Year holidays never returned to their peak production thereafter as the virus controlling task force imposed travel and other restrictions from April 23, disrupting the supply chains and the companies' ability to get their employees back after they left for their hometowns for the holidays.

The apparel sector, Sri Lanka's biggest manufacturing sector, has been falling far behind their regional competitors in meeting orders as they haven't been able to get their employees back and are operating at half the capacity due to excessively restrictive health guidelines, hampering production.

"Plants on average have been running at around 50 percent capacity though end-April and parts of May because of COVID-19 and adherence to health protocols of the country," said Tuli Cooray, Secretary General and Joint Apparel Association Forum.

"At the moment, we are running at about 10 percent below our levels of 2019, but the real impact of this will be seen in June and beyond. At the same time, out competitor countries continue to operate at much higher levels, which puts Sri Lanka in a relative position of weakness over the ability to meet customer demand on time," he added.

The April industrial production is the lowest since last June when manufacturing activities were fast getting back up after two months lockdowns that ended in May 2020.
The index value for manufacturing of textiles careened to 97.8 in April from 135.5 in March,
while the manufacturing of apparels fell to 73.4 index points from 131.2 index points, reflecting how hard the restrictions damaged the industry.

Further, the manufacturing of food products fell to 103.3 index points from 126.3 index points, while beverage production fell to 126.1 index points to 145.6 between the two months.

While production activities experience relatively less impact from the restrictions due to their essential nature, services activities saw a disproportionate hit. This was seen from the services sector Purchasing Manager's Index (PMI) data, which showed deeper contractions than in manufacturing.

Meanwhile, among the other manufacturing activities which lost momentum were rubber and plastic products, which fell to 85.7 index points from 124.0 in March and tobacco products, which fell to 66.1 index points from 94.7 index points in March.

Sri Lanka failed miserably in dealing with the pandemic while ensuring minimum implications on lives, livelihoods, jobs and businesses, creating what is termed as a self-inflicted economic crisis.