---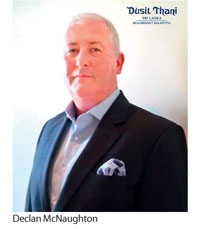 Dusit Thani Sri Lanka, Beachfront Balapitiya has appointed Declan McNaughton as new Chief Executive Officer for Sri Lanka's one and only beach front, luxury, high-rise, investment apartments available to foreign investors.

Declan brings to Dusit Thani Sri Lanka a wealth of global real estate industry experience spanning over 18 years, with unmatched experience particularly in promoting high-end developments and brands such as the Dubai Pearl, Anantara Residences among several other mixed-use high-end 5-star properties. Declan joins Dusit Thani Sri Lankafrom Chestertons International, UAE where he sat as the Managing Director.

The Beachfront – sold as high-rise investment apartments, offer 485 designer-fitted, beach and ocean-view apartments, priced from just US$244,000 (plus taxes). Investors receive a freehold title, guaranteed returns of 6 percent net for five [05] years per annum, paid quarterly in US$, the potential of approximately 30 percent in capital gains in two [02] years and no on-going costs. Additionally, apartment owners also receive a 21-day free stay per annum.
"Dusit Thani Sri Lanka is geared for immense success both due to its unique investment opportunity as well as the international standard of 5-star luxury associated with the Dusit Thani name. Declan has an incredible track record and a keen insight into the global real estate markets, particularly in the UAE and Asia. With Declan at the helm of our project, we will be met with unmatched success," commented Director, Indola Group – Paul Dwyer.
"With success of the 'Investment Apartment' business model seen in the UAE, Australia and Thailand, The Beachfront is gaining in popularity as it offers both a financial and lifestyle investment opportunity. With Sri Lanka's boom in tourism, coupled with the advances in infrastructure – The Beachfront will become Sri Lanka's next 'go-to' destination. With construction scheduled to begin on phase one [01] at the beginning of 2017, Declan joining us couldn't have come at a better time. His expertise and insight are undoubtedly going to push the boundaries of innovation in real estate sales to the next level, in Sri Lanka," concluded Director, Indola Group – Ajit Wijesinghe.

"I am pleased and honoured to be part of Dusit Thani Sri Lanka. With its paramount global reach and success in sales thus far, this project is one that will change the landscape of real estate in Sri Lanka. Having analysedthe immense potential for growth in this region, I am excited to be associated with an organisation that will not only commit to pursue this potential but also contribute to a nation's economic and investment growth," said newly appointed CEO, Dusit Thani Sri Lanka – Declan McNaughton.

With having recently made available a limited release of 40 out of 121 apartments (in stage 1 only), Dusit Thani Sri Lanka have sold an outstanding 80 percent. The property will be erected in three [03] stages, with the addition of a promenade featuring 15 international restaurants, bars & cafes, a spa, 2500sqm convention centre, tennis court, multi-faith chapel and gymnasium.