---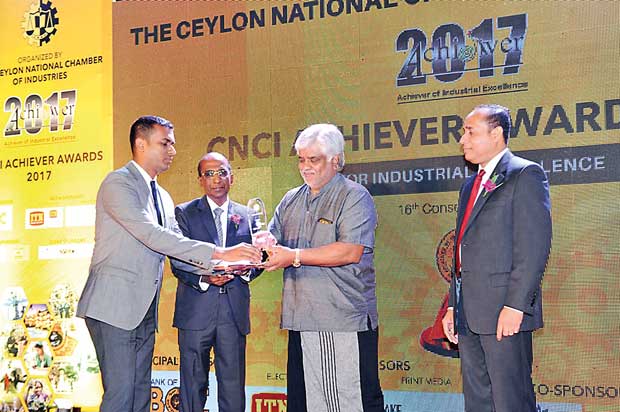 Central industries PLC won the 'CNCI Top Ten Awards' (Extra-large category Manufacturing) 2017' which is presented annually by CNCI for Industry and Services Excellence. Central industries PLC is the producer of Sri Lanka's foremost water-pipe and accessories brand 'National PVC' and electrical items and switches with the 'Krypton' brand name.

Central Industries PLC was one of the 10 companies that won the 'CNCI Top Ten Awards (Extra-large) 2017' after competing with 37 leading companies in the country. The company also secured a 'Merit Award' in the 'Extra-Large Manufacturing category' (National level) of CNCI Awards - 2017.
The event organized by the Ceylon National Chamber of Industries for the 16th year was held at the Galadari hotel, Colombo graced by President Maithripala Sirisena.

In 2013 Central Industries PLC clinched a CNCI (Extra-large) Merit award in the National level category.

Mayura Rupathunga, General Manager, Central Industries PLC said, the CNCI Top Ten Awards (Extra-large) 2017 and the Merit award in the National level category bestowed to the company is an endorsement on the excellence of Central Industries PLC products and services.

"The core competency and vision of our company is maintaining highest standards in all the company's products and services. These CNCI awards are sheer proof for the excellent standards we maintain in our products", said Rupathunga.

Amongst all PVC producers in Sri Lanka, Central Industries PLC was the first company to receive SLS 147 and SLS 659 standard certificates for PVC water-pipe production and PVC accessories production respectively.

The company's other products; Solvent cement, rain water management systeh, electrical conduits, PE water-pipes, PE water Tanks, Stainless Steel water tanks, septic tanks, garden Hoses, National compact ball-valves, Krypton electrical switches, sockets and accessories too are in high demand.