---
Amidst concerns on the slow progress made over the implementation of large-scale development projects in 2020, the Cabinet of Ministers decided appoint a committee chaired by State Minister for Money & Capital Market and State Enterprise Reforms, Ajith Nivard Cabraal to resolve issues related to the project implementation stage and ensure effective and timely completion of key development projects.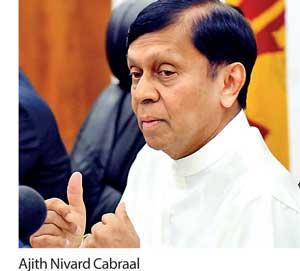 While submitting the progress report of the large-scale projects implemented for 2020, Prime Minister Mahinda Rajapaksa on Monday in his capacity as Finance Minister sought the approval of the Cabinet of Ministers to appoint a committee to rectify issues at the implementation stage.
Last year, the government initiated to implement 289 large-scale development projects at an estimated cost of Rs.710 billion under 40 different line ministries.

However, the progress report showed that the financial progress of those projects stalling at 70 percent at the end of 2020, while incurring additional costs to State coffers.

"It has been observed by the report that various issues and obstacles have been arisen with regard to the implementation of these projects, and although approximately Rs.8 billion has been spent on additional staff allocated for the projects; the expected results have not been achieved within the approved cost and time frames related to some of the projects," the Department of Government Information noted.

It highlighted that delays in pre-preparation stage and delays in obtaining required approvals from State agencies as some of key factors for the delays in the implementing some of these projects.

Therefore, the Cabinet appointed committee chaired by State Minister Cabraal and consisting of senior secretaries to ministries are tasked with conducting monthly reviews on resolving issues arising out of these projects with the assistance of the relevant parties in an optimal and timely manner.

The government plans to allocate further Rs.2.9 trillion for future activities of the 289 development projects.