---
But says no decision reached on offering Oman an oil exploration block
The Cabinet of Ministers this week approved a proposal to enter into a loan agreement for a US $ 3.6 billion credit line with the Government of Oman to finance petroleum procurement for a period of one year.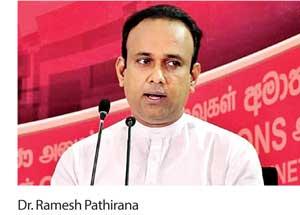 Responding to a media query at the weekly Cabinet press briefing yesterday, Cabinet Co-Spokesperson and Plantation Minister Dr. Ramesh Pathirana revealed that the two parties reached an agreement on the US $ 3.6 billion loan in principle.

However, he noted a request made by the Omani government to allocate them with an offshore block in the Mannar basin to explore oil deposit, in lieu of the interest payments of the credit, has not been approved so far.
"It's only the loan agreement that we have reached for US $ 3.6 billion, over a period of one year for the procurement of oil for Sri Lanka. We have not taken a decision as such. So, it will be only interest payments,"
he said.
Meanwhile, several media reports last month said Ceylon Petroleum Corporation (CPC) had decided to borrow US $ 2.5 billion from the international market on a long-term basis to restructure its debt owed to two state banks.
CPC had around US $ 3 billion in outstanding loans up to July this year.