---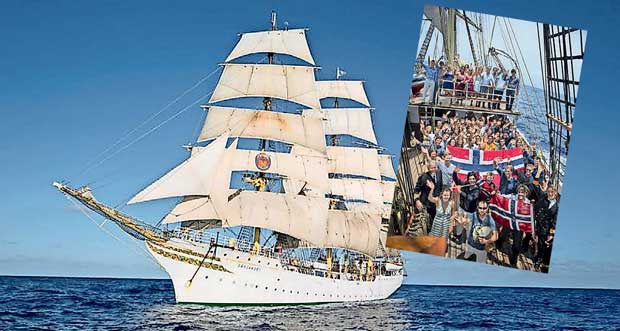 The world's oldest working full-rigged ship, SS Sørlandet from Norway, has arrived in Colombo. The ship is on a two-year circumnavigation of the world, with 70 high school students from A+ Academy.
During their stay in Colombo, they will greet the Sri Lankan maritime students and the ship will be part of several events hosted by the Royal Norwegian Embassy. Nicknamed 'The Pearl of Norway', she is quite a beauty with her 27 sails. She has sailed the oceans of the world for close to 90 years, most of the time as a training ship, hosting students and cadets.

However, her story also has a darker side when she was used as a prison ship during the Second World War.

The visit to Colombo is only one of 44 ports and 22 countries she visits on her two-year circumnavigation.

The 70 students on board are a mix of Norwegian and international high school students attending the on board boarding school.
On Thursday, October 27, they will welcome the Mahapola Training Institute, where the Sri Lankan maritime students will get a real-life and maybe hands on experience of a true sail ship. The students will exchange valuable experiences about the life as a sailor and mariner.

Later, the same day, the Royal Norwegian Embassy in Colombo will host a reception on board, anticipating ministers and ambassadors as well as members and friends of the Norwegian-Sri Lankan business environment.

The theme of the night is not surprisingly maritime history, a common heritage to both Sri Lanka and Norway and an important factor of the long-term Norwegian presence in Sri Lanka. The maritime theme continues the next morning when the Embassy co-hosts a seminar together with DNV GL on Maritime Clusters in Sri Lanka, followed by a luncheon on board Sørlandet for the maritime industry.
On Sunday, October 30, the Pearl of Norway once again sets sails as she is headed for her next port, the Maldives.