---
LeapFrog Investments, a US-based private investment firm that invests in high-growth financial services and healthcare companies in emerging markets, yesterday bought a 19 percent stake in Sri Lanka's Softlogic Life Insurance PLC, investing US $ 12 million (Rs.2.2 billion).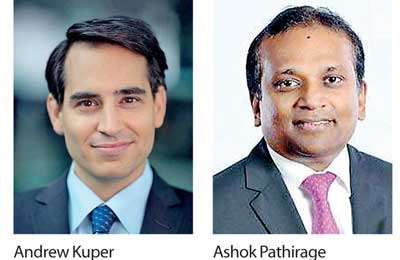 The seller of the shares was FMO, the Dutch Development Bank, which has been an investor in Softlogic Life since December 2012.The shares were traded on the market in two blocks—35,625,000 shares at Rs.30.80 and 35,620,517 at Rs.30.70—about Rs.8 below the market price. The Softlogic Life book value as at September 30, 2018 was Rs.17.92.

The purchase was executed through LeapFrog Investments subsidiary, Dalvik Inclusion Private Limited, a Mauritius-based company.
Following the transaction, the main shareholders of Softlogic Life will now consist of Softlogic Capital, DEG and LeapFrog Investments.
LeapFrog Investments Founder Andrew Kuper in a press release said Softlogic Life, which is growing at two times the market, is an outstanding company due to its team, products and high growth.

"This investment reveals our positive view of Sri Lanka's long-term trajectory and its financial services industry. The deal also caps the best year of deployment in the history of our firm," Kuper said.

LeapFrog Investments Director Fernanda Lima said Sri Lanka presents a "compelling investment opportunity with an underpenetrated, yet high growth insurance market".

Softlogic Life, a top-five player, has established itself as a leader in providing quality life insurance products to Sri Lanka.

The company leads the market in customer-centric product innovation including tailor-made products such as a worldwide cashless hospital settlement product integrating more than 60 local hospitals, doorstep doctor visits and medical testing.

The company employs a 2400-person agent force, as well as distributing protection products via banks and direct means.

It was also first in Sri Lanka to market life insurance via mobile through a partnering Dialog Axiata.

Mobile insurance products significantly open up access to the emerging consumer demographic—people living under US $ 10 a day.

LeapFrog was an early investor in BIMA, a financial technology business, which in only four years grew to become the leading consumer mobile insurer, scaling to over 30 million policies for emerging consumers in only four years.

LeapFrog sold the majority of its stake in BIMA as a part of US $ 96.5 million investment to Allainz X, the digital investment unit of the Allaianz group.

"We are excited about the next wave of growth for Softlogic Life and our ability to continue to accelerate our market growth strategy in partnership with the LeapFrog team and the insurance and financial services expertise they bring to the table.

LeapFrog has a reputation for partnering to achieve channel expansion, as well as to solidify strategic relationships that underscore growth—two continued areas of focus for the Softlogic Life business. We hope that this is the first of many investments in Sri Lanka and with the Softlogic group," Softlogic Group Chairman Ashok Pathirage said.

He also said he is deeply appreciative of FMO's partnership to build Softlogic Life to this strong position and is happy to have provided an excellent return on exiting their investment.

LeapFrog was founded in January 2007 by Kuper and officially launched in 2008 by former US President Bill Clinton, who endorsed the firm for opening new frontiers for alternative investments.

The firm's investments have an annual growth rate of more than 40 percent and its companies reach over 157 million people across 149 countries with healthcare and financial services primarily in Africa and Asia.