---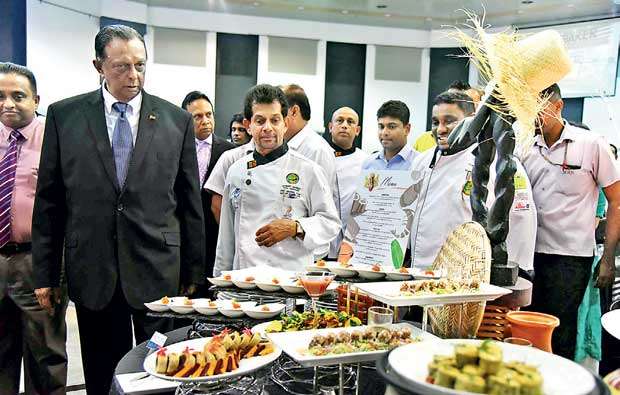 Minister John Amaratunga inspecting some of the items on display. Chef Gerard Mendis – Chairman, Chefs Guild of Lanka and Chef P.M. Weerabaddhana – Director Special Events, Chefs Guild of Lanka are also present. Pic by: Kithsiri de Mel
The Chefs' Guild of Lanka unveiled the 18th edition of Culinary Art Food Expo (CAFE) 2018 yesterday at the BMICH Colombo with Tourism Development Minister John Amaratunga as Chief Gust.

Sri Lanka's premier and aptly named culinary event centers on local and international cuisine and a list of culinary superstars will be in attendance. CAFE is the country's signature event for the food industry that attracts thousands of visitors and will now be held annually. Food companies from Sri Lanka and the region also participate at the Expo to explore business opportunities.

In addition, industry professionals and exhibitors, spanning vertical sectors from food & drink, food- service and hospitality equipment to hospitality technology service providers showcased their products and services. Visitors can also watch head-to-head chef competitions with teams from the nation's leading hotels to complete over a three-day period.
The competitions will engage approximately 500 contesting chefs from resorts, restaurants and hotels from around the country and the region, who will compete in 06 classes across all disciplines of the Culinary arts; Sri Lanka Festive Buffet Culinary Hotel Championship, 7-Star Master Baker of the Year, Sri Lanka Artistic Creative Pastry Chef, Sri Lanka Arrack & Vodka Cocktail Championship, Scan Sunquick Mocktail Competition. It is the ultimate challenge where several culinary talents will flock to display their masterly skills, and seek accreditation and feedback for improvement from the judging panel of internationally acclaimed chefs.

For the first time, in order to engage the visitors, a Public Family Master Cooking live Competition will be held to enthrall young and old food lovers alike. Another introductory feature is the Live Cookery programme on butchery sponsored by the Australian Trade Commission.

Eight international judges will be present to judge alongside six local judges during this culinary spectacular event this year. CAFE is widely recognized as the country's most prestigious international culinary competition that has a strong emphasis on the promotion of culinary

excellence. It is Sri Lanka's largest culinary competition and is endorsed by the World Association of Chef Societies (WACS).