---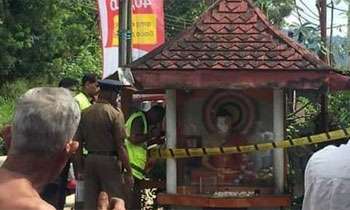 Minister of Housing, Construction and Cultural Affairs Sajith Premadasa has appointed a committee to investigate into the incidents of vandalizing Buddha statues in Mawanella area.
The ministry said officials from the Cultural Affairs Department and Archaeology Department headed by Assistant Director of Kegalle Archaeology Department H. B. A. K. Nimalgoda have been appointed to look into the incident.
Ministry said four Buddha Statues at Randiwela Junction, Mahanthegama Road, Hingula Junction and Idula Junction have been damaged.
Though the initial investigation revealed that the vandalized Buddha statues has no archaeology value, it cannot be discarded from re-establishing those Buddha statues which has been worshipped by the people, the ministry said.
The ministry has finalized the estimating funds required fro re-construct of damaged Buddha statues and the process would be completed within next week, the ministry said.
Earlier, the police arrested seven suspects for damaging Buddha statues in Mawanella.(Darshana Sanjeewa)