---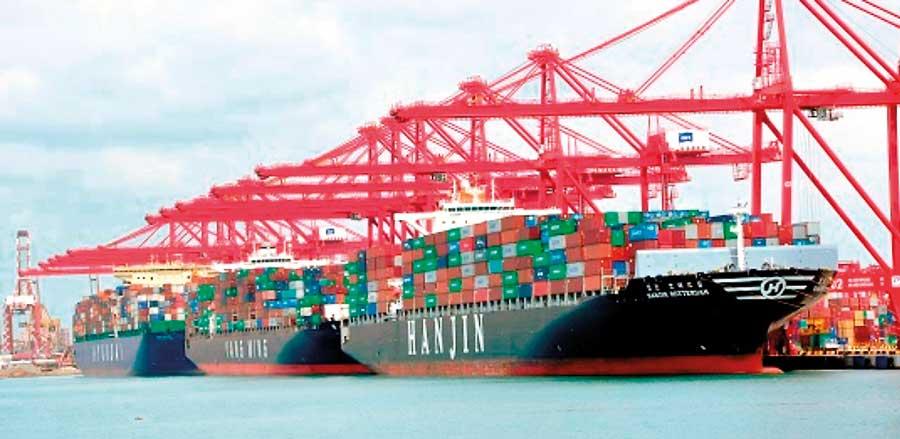 Main shipping lines restore services back from alternative routes
May and June witness 25.7% and 13.5% YoY rise to 533,158 TEUs and 548,292 TEUs
1H transshipment container volumes record 0.7% YoY marginal increase to 2.91mn TEUs
However total containers handled down 2.7% YoY in 1H, with domestic container volumes declining by over 20% YoY
Ship traffic at Colombo port up by 18.9% YoY to 2,361 vessels
Transshipment container volumes at the Port of Colombo rebounded in the first half of the year, ending the nearly one-year declining trend, as main shipping lines restoring services back from alternative routes on renewed confidence on the stability of country.
In May and June this year, transshipment container volumes at the Port of Colombo rose by 25.7 percent Year-on-Year (YoY) and 13.5 percent YoY to 533,158TEUs and 548,292 TEUs respectively, ending the nearly one-year declining trend.
With the double-digit growth recorded in the two months, the transshipment container volumes at the Port of Colombo was marginally up by 0.7 percent YoY to 2.91 million TEUs in the first six months of the year, erasing the decline recorded in the first four months of the year amid the looming global recession.
Transshipment volumes at the Port entered into a declining trend from June last year as main shipping lines temporarily opted for alternative routes at the height of the country's political and social unrest.
This was further exacerbated early this year due to lower demand for shipping containers by sea globally, resulting from muted economic growth and reducing customer inventories.
"Some of the transshipment volumes have come back. Some of the services which were bypassing The Port of Colombo have come back. Its more stable now," a local shipping agent told Mirror Business.
According to leading supply chain visibility platform Beacon's rankings, Port of Colombo had the lowest average monthly container dwell time at 1.8 days during the first half of this year.
However, total containers handled by the Port was down by 2.7 percent YoY to 3.46 million TEUs in the first half of the year with domestic container volumes declining by over 20 percent YoY to 453,641 TEUs in the period. In June this year, the decline in domestic container volumes slowed down to 2.3 percent YoY.
Given these positive developments, the industry expects the container throughput at Port of Colombo to record growth compared to last year, but below the all-time high of 7.25 million TEUs recorded in 2021.
"The traffic is improving. We are likely to end the year with a higher container throughput than last year, but lower than what we recorded in 2021," the shipping agent added.
During the period, Port of Colombo's only fully operational deep container terminal, Colombo International Container Terminal (CICT) managed to handle 1.59 million TEUs followed by 1.03 million TEUs handled by Sri Lanka Port Authority-managed Jaya Container Terminal (JCT) and its partially operational East Container Terminal (ECT) and 853,776 TEUs handled by South Asia Gateway Terminal (SAGT).Here, ship traffic at the Port rose by 18.9 percent YoY to 2,361 vessels.