---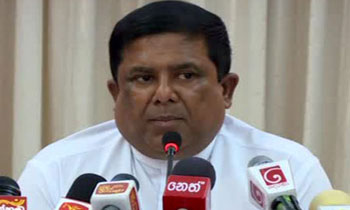 Home Affairs Minister Vajira Abeywardana yesterday said Speaker Karu Jayasuriya would be bestowed with the powers of both the President and the Prime Minister in the event the No-Faith Motion against the Premier was won by those who brought it.
According to the 19th Amendment to the Constitution, the Minister said a No-Faith Motion could not be brought against the Premier but against the entire Government.
"There is no legal provision in the Constitution to bring a No-Faith Motion targeting only the Prime Minister, it should be brought against the entire Government," he said.
"We are optimistic we can defeat this motion. However, if the No-Faith Motion could not be defeated, the Speaker could get the President's and Premier's powers with the consultation of the Attorney General," he told a news briefing held at Sirikotha.
He said the 81 (1) Paragraph of the Constitution said an MP could be expelled if he was found guilty by a President's Commission but said the PCoI into Central Bank Bond Scam had not levelled charges against the Premier.
He also said according to the Paragraph 81 (2), any proposal against an MP should be presented to the Speaker only with the approval of the Cabinet and by the Prime Minister.
"However, the Constitution enables the bringing in of a no-confidence motion against the government as a whole but not against a certain MP or the Premier," he said. (Lahiru Pothmulla)