---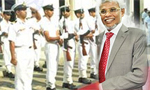 Eastern Province Chief Minister Nazeer Ahamed, who publicly rebuked a naval officer during a function held at the Sampur Maha Vidyalaya, was welcomed by the Navy to the Naval Base in Trincomalee today.
The Chief Minister arrived at the naval base to attend a luncheon with Minister Malik Samarawickrama and Singapore's Trade and Industry Minister S. Iswaran who is currently in the country.
This was Mr. Ahamed's first visit to a naval base after the incident. The security forces had been perturbed following the incident, and the Chief Minister had not been allowed to enter a military camp on May 26.
On May 27, the day after he was prevented from entering, the Chief Minister had sent letters to President Maithripala Sirisena and Prime Minister Ranil Wickremesinghe, condemning the decision of the security forces.
The MoD had, on May 30, revoked the decision of the armed forces and permitted the CM to enter the camps.(Darshana Sanjeewa)