---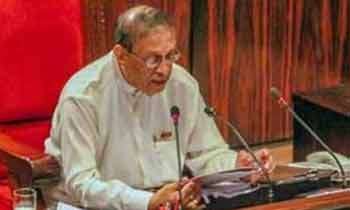 Speaker Karu Jayasuriya said yesterday it was difficult for him to manage without a deputy speaker.
He said this when the matter of a deputy speaker was being discussed by the MPs.
"I hope the President will take steps to appoint a new deputy speaker as it is difficult for me to manage the affairs of the House single handedly," the Speaker said and added that he had officially informed President Maithripala Sirisena on the need to appoint a new deputy speaker but had not received a response yet.
He said he was ready to work with any one and did not care whether the deputy speaker was from the Opposition or from the ruling party.
"It does not matter who it is as long as I can work with him. All I want is a neutral approach from him or her," the Speaker said.
UNP MP Nalin Bandara asked the Speaker about the delay in appointing a new deputy speaker. "What is keeping you from appointing a new deputy speaker now that the then Deputy Speaker Thilanga Sumathipala had resigned from the post," he said.
MP Bandula Gunawardene said his colleague in the opposition S. B. Dissanayake had clearly stated that Mr. Sumathiapala could be reinstated.
"Mr. Dissanayake said on Wednesday that the SLFP had the right to appoint a new deputy speaker and that Mr. Sumathiapla could be reinstated. There is no rule that both the speaker's post and the deputy speaker's post should be held by the ruling party," he said. (Yohan Perera and Ajith Siriwardana)