---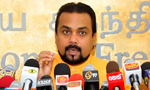 In the wake of President Maitripala Sirisena lashing out at the alleged politicization of the FCID, CID and the Bribery Commission, National Freedom Front (NFF) Leader and MP Wimal Weerawansa said it was time for the President to walk the talk.
He told a media conference that it was obvious that the President had directed his criticism at Prime Minister Ranil Wickremesinghe. Mr. Weerawansa said the President was similarly critical of the VAT Bill but had failed to ensure that the government would not proceed with it.
"People do not want the President to talk about issues without acting boldly to sort them out. It time for the President without confining himself to words to act now if he wields executive powers," he said.
"If the conduct of any state body is directed according to a political agenda, it will be the worst form of abuse. The President who led those who secured power with the promise of upholding human rights and democratic values has come to terms with the fact that these state bodies are run according to political agendas. It means these government bodies are being used to suppress political opponents," Mr. Weerawansa said.
He said this criticism was directed at none other than the Prime Minister.(Kelum Bandara)