---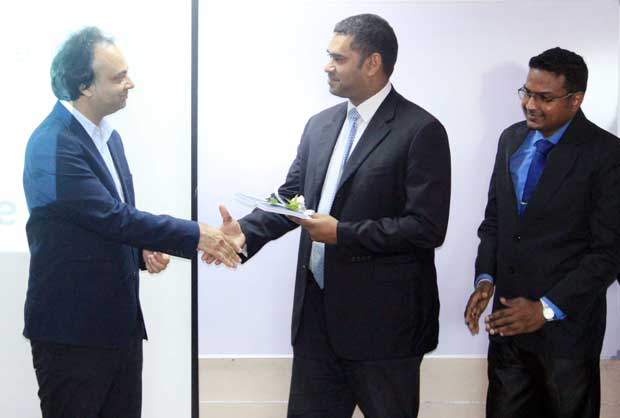 Edulink International Campus, once again plays the role of being a leader in the education industry in nurturing entrepreneurship amongst the youth in the country by launching an international journal on entrepreneurship titled as 'International Journal of Management and Entrepreneurship'.
The aim of this publication is to share knowledge among students and the public to improve the understanding of entrepreneurship and management concepts and to motivate the young generation to undertake entrepreneurial ventures of their own.
Through this venture Edulink becomes the first private education institute in the country to launch an international journal on Entrepreneurship.
The launch of the journal was attended by the Chief Guest Raj Dass, Principal Lecturer, Faculty of Business, International Collaborations Representative (SE Asia)) and a host of other dignitaries from the academic industry such as Prof. Sunanda Degamboda, University of Kelaniya, Prof. K.A.P Siddhisena, Emeritus Professor of Demography, University of Colombo, Dr. Sampath Kehelwalathannaenna , Faculty of Management and Finance, from the University of Colombo, Dr. Dinesh Samarasinghe, Faculty of Business, University of Moratuwa, Dr. Nalin Abeysekera, Faculty of Humanities and Social Sciences from the Open University of Sri Lanka, Dr. Thusitha Kumara, Faculty of Management from the Uva Wellassa University and Dr. Pavithra Madhuwanthi, Faculty of Management Studies & Commerce, from the University of Sri Jayewardenepura.
The first copy of the journal was ceremoniously handed over to the Chief Guest by The Director of Edulink International Campus Kanishka Weeramunda. Also in attendance were other key members of Edulink International Campus comprising of Damith Gangodawilage, Deputy Campus Director and Head of Academics, Dr. Ruwan Jayathilakaileke , Senior Lecturer and MBA programme lead, the Editor of the journal, Dr. Hasintha Premerathnaaathne and the assistant editors Ama De Silva and Tuan Hamidon.
The articles presented in the journal are from various individuals from industry and academia and five Edulink students and two Edulink staff members.
Topics cover e-learning. readiness in tertiary education in Sri Lanka with special reference to IT education, determinants of the growth of the export industry in Sri Lanka , the impact of lean management on banking sector performance in Sri Lanka, the importance of brand equity in consumer buying behavior, the effect of macro-economic factors on non-performing loans of Sri Lankan financial institutions, price elasticity of railway passenger demand and student perceptions on the quality of the private higher education sector.
The articles deliver relevant, incisive, high-quality content to inspire entrepreneurs to achieve their own business success, and delivers a 'call to action'. Each of the articles comprise of case studies of local success stories that readers can learn valuable business lessons from, and provide insights into actionable steps entrepreneurs can implement. Local and international experts also weigh-in on these pertinent topics, covering a broad range of business issues, along with many tips and ideas on how to make a success of an entrepreneurial venture.
Editor, Dr. Hasintha Premerathna, said "the Journal's main objectives are to provide a forum for the best research and to become a leading platform for undergraduate and postgraduate researchers to publish their work. In doing so, the Journal grants students a unique opportunity to learn and judge the qualities of good academic writing. We are very excited about the very first launch of the journal that will provide a home for high quality original research and review papers."
Director of Edulink Campus Kanishka Weeramunda added to these comments by stating "this journal aims to assist in the growth of entrepreneurship, by inspiring our young generation to understand it's value and benefits and to drive them to look into launching their own innovative companies. It provides them with the tools and motivation to do so, as well as advice, insight, and guidelines."
This journal, is a first step towards cultivating and garnering the interest of the younger generation in entrepreneurship, and in fostering , harnessing and motivating the entrepreneurial landscape amongst the country's youth.