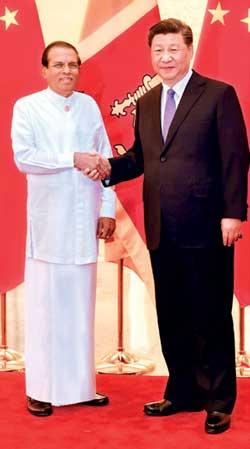 By Sandun A Jayasekera
The Sri Lankan and Chinese governments yesterday signed a new Memorandum of Understanding (MoU) for the security forces in the two countries to cooperate with each other.
The bilateral talks between President Maithripala Sirisena and Chinese President Xi Jin Ping held yesterday focused on the measures taken by the government to ensure the people's security, establish national security and bring the country back to normal following the Easter Sunday terrorist attack. The Chinese Government had agreed to donate 100 jeeps to the Sri Lanka Police on a request made by the President while Sri Lanka and China entered into three security and investment agreements. The agreements entered into were important, in particular to Sri Lanka as China is the biggest investor in Sri Lanka and also the largest number of tourists who visited Sri Lanka were from China. Meanwhile, the President is expected to place before the "Conference on Dialogue of Asian Civilizations" to be held in Beijing today the positive measures taken by the Sri Lankan government for the future of Sri Lanka.