He was remanded until October 27, 2020 by the Colombo Fort Magistrate
He has been staying at a house in Kalubowila prior to arriving in Dehiwala on Oct. 15
Seven suspects including a female doctor arrested over harbouring Bathiudeen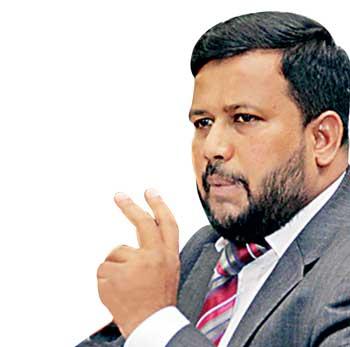 By Darshana Sanjeewa Balasuriya
Former minister and MP Rishad Bathiudeen who was hiding in an apartment at Ebenezer Place in Dehiwala has been arrested by the CID yesterday for misappropriating public funds during the previous Presidential Election, Police Spokesman DIG Ajith Rohana said.
Several CID teams and intelligence officers were investigating to arrest MP Bathiudeen since
October 13.

The former minister who was produced at the Colombo Fort Magistrate Court last evening was remanded until October 27, 2020 by the Colombo Fort Magistrate.

He said seven more persons including a female doctor and her husband were arrested by the CID for harbouring MP Bathiudeen.

The female doctor is reported to have been the owner of the house where Bathiudeen had stayed when he was taken into custody. A secretary of the former minister was also arrested along with them.

"The CID arrested two suspects for aiding to harbour MP Bathiudeen on Saturday in Wellampitiya area. Following the questioning of them, the CID had revealed the information over the MP's hiding," a spokesman said.
He said that the MP had visited the Dehiwala apartment on October 15 after staying for two days in another house at Kalubowila in the Kohuwala area.

He said a foreign employment agent who had provided transportation for the MP was among those arrested. The vehicle was also taken into CID custody.

"Several other individuals were also wanted for aiding to harbour the MP and investigations are in progress to arrest them," he said.

The Attorney General on October 13 had instructed the police to arrest former Minister of Industry and Commerce Rishad Bathiudeen, the Director of the project Mohamed Yaseen Samsudeen and the project accountant Alagarathnam Manoranjan for misappropriating public funds amounting to Rs. 9.5 million.

Accordingly, the CID had arrested accountant Alagarathnam Manoranjan on October 14 in the Kirulapona area. A police constable, who was a member of Bathiudeen's security detail was also arrested in Wellawatta on Tuesday on charges of helping the MP to evade arrest while two drivers of the MP were also arrested.

The CID also recovered two vehicles reportedly used by the former minister in the Wellawatta area along with two pistols, 4 magazines and 48 rounds of ammunition from the vehicles. The suspects, except the police constable were remanded till October 28.

DIG Rohana said the CID are investigating to arrest the third suspect, Mohamed Yaseen Samsudeen over
the case.

Lawyers of MP Bathiudeen have also filed a writ application at the Court of Appeal seeking an order to prevent his arrest.
The CID also recovered two vehicles reportedly used by the former minister in the Wellawatta area along with two pistols, 4 magazines and 48 rounds of ammunition from the vehicles
A foreign employment agent who had provided transportation for the MP was among those arrested