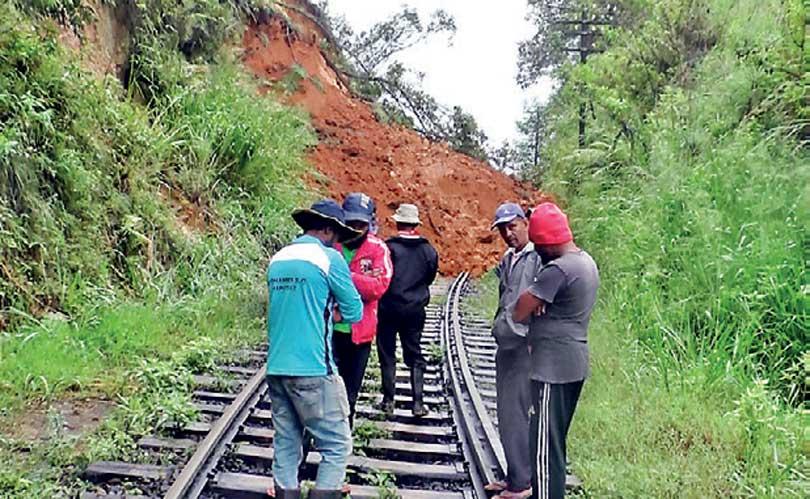 The up-country train services came to a standstill since last night due to an earth slip between Diyatalawa and Bandarawela, the Railway Control Room said. They said train services could be operated only up to Bandarawela. Accordingly, the Colombo bound Badulla night mail train was operated up to Diyatalawa Railway Station last night.
The clearing of the track is underway.
By Chaturanga Samarawickrama and NIshantha Kumara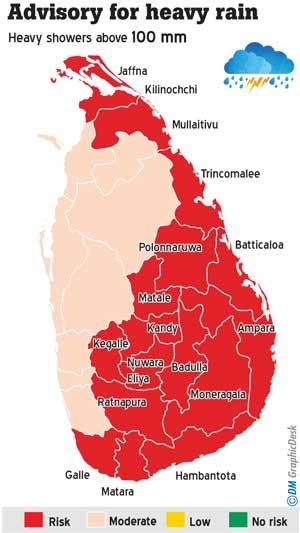 By Yohan Perera
The low-level atmospheric disturbance in the vicinity of Sri Lanka (south of Sri Lanka), prevailing showery condition is expected continue in the coming days while people living along the river banks were asked to be vigilant as there is a flood threat, Disaster Management Centre ( DMC) said yesterday.
Prevailing showery condition in Northern, Eastern, North-central, Uva and Central provinces is expected to continue with showers exceeding 100mm are expected. Heavy showers above 100 mm are likely at some places in Jaffna, Kilinochchi, Mullaitivu, Mannar, Vavuniya, Anuradhapura, Polonnaruwa, Trincomalee, Batticaloa, Ampara, Nuwara-Eliya, Badulla and Monaragala districts. Showers or thundershowers are expected at times in Northern, North-central, Eastern, Uva and Central Provinces and in Hambantota District. Showers or thundershowers will occur elsewhere after 1.00 p.m. Showers may occur in North-Western Province during the morning too.

Fairly strong gusty winds up to 50 kmph can be expected over the island particularly in Northern, North-Central, North-Western, and Central and Uva Provinces.
Landslide warnings were issued in Kandy, Nuwara-Eliya, Ratnapura and Badulla Districts. Several areas experienced showers exceeding 100mm as of afternoon yesterday with the highest rainfall of 1219 mm recorded from Batticaloa, Polonnaruwa experienced a rainfall of 116.2mm, Kesbawa 95mm, Colombo 67mm, Vavuniya 77mm, Anuradhapura 97mm, Badulla 64.4mm, Maha-Iluppalama 86.6mm, Hambantota 73mm and Bandarawala 57.5mm. Several reservoirs including Lunugamvehera, Uda walawa and Ulhitiya were overflowing.