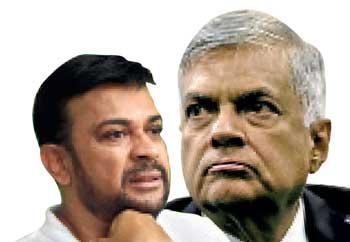 By Yohan Perera
Prime Minister Ranil Wickremesinghe had advised State Minister Ranjan Ramanayake to refrain from utterances that would hurt the feelings of the Maha Sangha in future, it was revealed yesterday.
The Prime Minister had given this advice when he met the State Minister at Temple Trees last evening after he was called in for a meeting by Mr. Wickremesinghe to query a statement made by him that 90 per cent of monks have been sexually abused by the Chief Incumbents of the temples they have been serving in.

"Premier told me not to hurt the Maha Sangha and asked me as to what exactly I said in my statement. I told him that I never used the word Maha Sangha but used the word 'those who are in saffron robes," the state Minister told journalists after coming out of the meeting with the premier.

"I showed Mr. Wickremesinghe a file which contained details on monks who have been abused by chief incumbents of temples and he was shocked by it," he added.
Mr. Ramanayake said he would only tender an apology to those monks who practice the teachings of the Buddha but would not apologize to monks who behave in an aggressive manner in public.