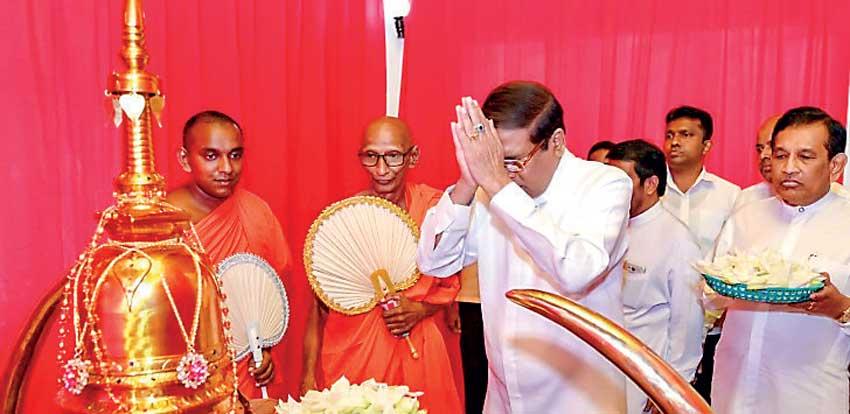 Punishments for any deliberate wrongdoing should be in place in order to build a respectable society
Death sentence is the punishment for a murder, conspiracy against the state
all those With links to the Easter Sunday attacks have been arrested
By Sandun A. Jayasekera
Any attempt to disgrace Maha Sangha should be vehemently condemned and rejected irrespective of the positions and capacities of the accusers, President Maithripala Sirisena said.
President made these comments at an event to open a newly constructed Sacred Relic Chamber and Sermon chamber at Palanda Raja Maha Viharaya yesterday.
Those who try to bring a bill before Parliament to repeal the death penalty attempt to let the accused of the Easter Sunday attack which cost nearly 300 lives to go scot-free, he added.
According to the Criminal Law of this country, death sentence is the punishment for a murder, conspiracy against the state and terrorist activities and with the moves to abolish the death sentence it will not be possible to punish any offenders of these crimes, President added.

All the suspects of the "Bond Scam " have been revealed and are in custody, while international warrants have been issued to arrest those who are in other countries, said the President adding that he personally spoke to the Singaporean Prime Minister regarding the extradition of Arjun Mahendran. Investigations are well underway, the President assured.

President Sirisena also said all the individuals who have links to the Easter Sunday attacks have been arrested and investigations continue. Since there are clear evidences against them, they also should be sentenced to death according to the prevailing law of this country, the President added.

Strict punishments for any deliberate wrongdoing should be in place in order to build a respectable society and the fear against punishment is helpful to create a virtuous nation, he further said.

Following the unveiling of the plaque, President Sirisena went on an inspection tour of the new building and handed over a memento to Chief incumbent Ven. Devamulle Kalyanwangsha Thera.

Ven. Pimbure Uditha Thera, Health Minister Rajitha Senarathna, Former Ministers of the Western Province, District Secretary U.D.C Jayalal and many others were among the gathering.
Since there are clear evidences against the 21/4 attackers, they also should be sentenced to death according to the prevailing law of this country