---
'The National conference against the microfinance loan catastrophe'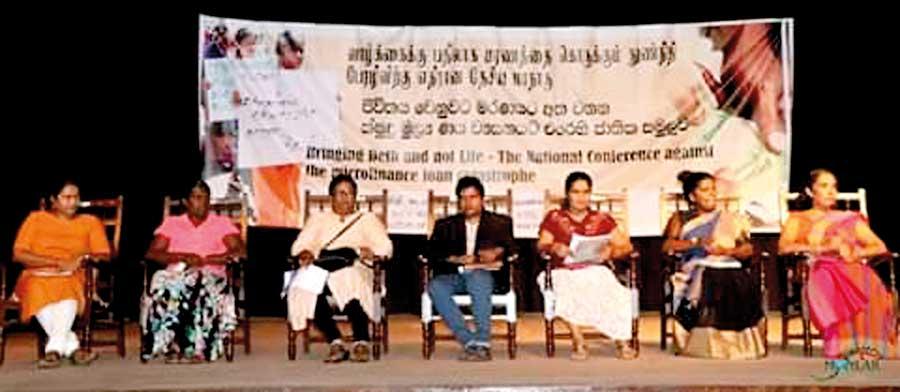 Social activists and victimized women take front stage
The stated aim of microfinance companies is to uplift the lives of rural communities by providing them with financial assistance. In Sri Lanka, the provision of financial services to rural households was largely recognised with the 1986 'Janasaviya' programme. Thereafter many microfinance companies mushroomed in the country. But today, rather than being institutions of financial upliftment, microfinance companies have become a menace to people countrywide, especially in the Northern, Eastern and North Central Provinces. In this backdrop, those most affected were women who sought financial solutions through multiple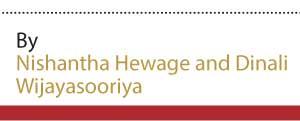 borrowings which ultimately plunged them into a financial crisis.
The media has reported that over 170 persons have committed suicide due to being unable to settle their debts. Many tend to flee their hometowns to escape their debt burdens. Furthermore, financial institutions are known for charging higher interest rates and adopting illegal methods to recover loans. There are allegations of debt collectors soliciting sexual bribes from customers. In this context, the Government is planning to introduce the 'Credit Regulatory Authority Act' to regulate the misdeeds of the financial institutions.
Moreover, thousands of financial institutions have not fulfilled the basic requirements needed to function under the 2016 Microfinance Act. According to the Act, microfinance companies can be registered only if they have over Rs 150 million in capital and have functioned for over three years. But these financial institutions still function without being regulated.
The failure of microfinance companies to self-regulate means there is no record of them in the Credit Information Bureau (CRIB) which maintains a credit information database of all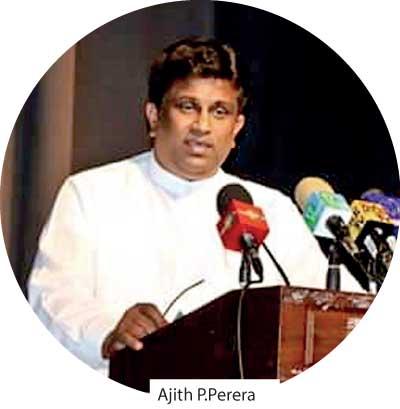 authorised national lending institutions. A CRIB report gives details of all credit facilities used by an individual or corporate entity from any authorised lending institution.
"It isn't a secret that many financial institutions engage in microfinance operations to yield major profits rather than strengthen local economies"
Regulation
In this contest it is important that Government intervention happens in the form of regulations to reform and safeguard existing mechanisms. This would serve as an impetus towards the saving and reinvestment of local capital within the community itself, while regulating institutions that absorb the circulation of monies within communities. It isn't a secret that many financial institutions engage in microfinance operations to yield major profits rather than strengthen local economies. But this goes against the initial concept of the microfinance model which suggests a win-win situation for both parties, i.e. the rural community and the service providing institution. The aim of microfinance companies should be to provide pathways to access entrepreneurial activities while causing no losses to the institutions that provide financial services.
National conference
The national conference against the microfinance loan catastrophe was held earlier this month at the Western Province Aesthetic Resort. It was organised by the 'Collective of woman victims of microfinance', and it put forth two main aims. First, it intended to present the proposals to the representatives from some of many political parties like Ajith P.Perera (National Democratic Front), Wimal Rathnayake (National People's Power), Pubudu Jagoda (Frontline Socialist Party) and Gamini Wijesinghe (National People's Movement). The above representatives were presented with a set of proposals which comprises both proposals which are to be implemented immediately and long-term. The second aim was to assert a set of proposal which is operative at a national level. In addition, representatives from different communities and other social activists addressed the issues faced by the victims of microfinance loans across the country. Moreover, those who have been affected were also given space to voice their agonies caused by
microfinance catastrophe.
Voices of the victimized
Suchithra from Higurakgoda related her plight in a manner which echoes the lives of the other women who undergo helpless situations similar to her. She said that she had worked at a Garment factory and her husband had maintained a small boutique. Some of the people belonging to financial institutions had persuaded them to borrow money. Due to their inability to settle the loan they had become helpless. "Afterwards, a company encouraged us to take a loan which could cover dues to other financial institutions from which we had borrowed," she said. Sachithra also explained how she had become indebted to several other companies during attempts made to settle these loans. She has also been threatened by the debt collectors to settle the loans. It has become disgusting for her as these company representatives had visited her work workplace and blamed her using harsh words. They had demanded sexual bribes from her which forced her to flee the village. Meanwhile, they had to undergo many struggles and eventually return to the village. "We now settle the loans as we can. We are even being sued by these microfinance companies,"a grief-stricken Suchithra explained. Another lady from Padaviya, Rekha Karunarathna, who addressed the conference on November 4, narrated her plight. Her story too reflected a plight common to ordinary women who try to run their families at any cost. But financial institutions, whose motive is only profits, don't offer them space to grow and instead lead them to embrace death. These companies do not offer them proper means to settle these debts. Their shared plight yields profits for MFI's. The irony of all this is that the very institutions who promise them a promised land leave them in the wilderness of hopelessness.
"The failure of microfinance companies to self-regulate means there is no record of them in the Credit Information Bureau (CRIB) which maintains a credit information database of all authorised national lending institutions"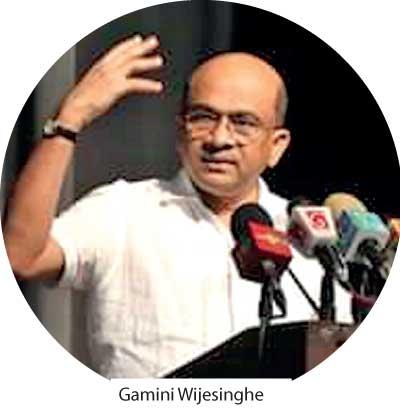 With the expectation of serving justice for the victims of these deadly microfinance practices 'Collective of woman victims of microfinance loans' provided proposals to the Government of Sri Lanka (GoSL). The proposals suggest writing off all the loans issued by MFI which do not conform to the basic recognised standards and loans which are higher with interest rates. After writing off the loans, all records which are in the CRIB should be removed. A policy should be implemented not to add the people who are unable to settle the loans in the future. In terms of MFI regulation, the Government should regulate interest rates and should create a mechanism to look into those MFI's which do not meet accepted standards. Moreover, the Government should take legal action against them and cancel the registrations of MFR's that do not stick to the given regulatory structures.
With regard to long-term proposals macro-economic policies should be implemented in order to uplift the livelihoods of rural communities. Besides the Government should be concerned with the livelihoods of rural communities and should encourage small–scale producers. Such policies would ensure in bringing justice to women's indebtedness in the long-run. In order to encourage the women, concessionary loan schemes should be established as
mentioned in the proposals.
The agonies faced by the women and the others who have been affected by this micro-finance catastrophe are yet to be addressed and should be given proper solutions. This raises many other concerns too. Furthermore, there can be thousands of women whose voices are unheard and unrecorded. A microfinance institution should not therefore push people from the frying pan to the fire. Instead, it must release their burdens on life, and offer a helping hand to uplift the lives of members in rural communities. The present Government has a responsibility to probe these matters of poverty while making policies to regulate microfinance institutions to ensure a better future for the
island's rural communities.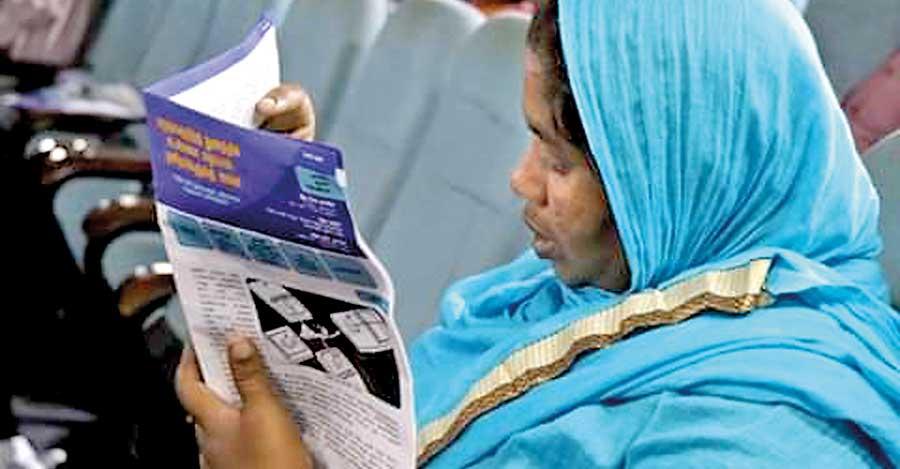 A victim reads the proposals of the proposed Debit Regulatory Authority Act