---
Says plans to develop 5G products for its Sri Lankan customers
Believes SL could potentially lead Asia Pacific region in tech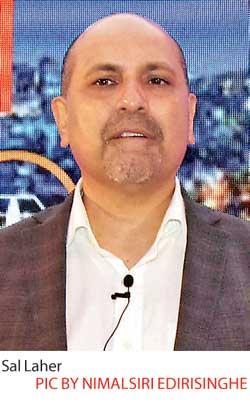 By Nishel Fernando
Sri Lanka will draw more tech firms to the country with the roll out of 5G technology, which would enhance the value proposition of the country as an emerging IT Hub, Sweden-based leading enterprise software solution provider, IFS said.

"Sri Lanka has been fast on the uptake of 5G and it has also been faster in developing its IT eco system with universities and other stakeholders. Hence, I believe more tech firms will come to Sri Lanka following us," IFS Chief Digital and Information Officer (CDIO), Sal Laher said.

He was speaking to Mirror Business on the sidelines of the IFS' inaugural Techtalk in Colombo yesterday.

The two leading celcos in the country, Dialog Axiata and Mobitel are preparing to roll out 5G services to corporates initially by next year.

Laher emphasised that 5G will be a game-changer for Sri Lanka as it will enhance the latency and the speed while its greater capacity would to accommodate large number of IOT devices ensuring exchange of information among these devices.
"4G was all about internet connectivity, but 5G is the whole package. As 5G allows millions of devices to connect at the same speed, it will make transactions faster at a low latency," he elaborated.

IFS plans to develop products for its customers with 5G when it is launched in Sri Lanka, which would bring benefits to their customers as well as to end consumers. Laher noted that tech industry, media and banking & insurance industries in particular stand to gain from the roll out of 5G services in Sri Lanka.

He pointed out that Sri Lanka is ahead of India in its value proposition as a potential offshore hub for tech firms. "When the tech investors look at markets, they look at India which has been a good offshore market. However, in terms infrastructure and investments, there are quite a lot going on in Sri Lanka. There are so many perspectives which makes Sri Lanka a good location," he stressed.

Laher believes that Sri Lanka could potentially lead the Asia Pacific region in tech, banking and media industries, further supported by developments such as Colombo International Financial City.

IFS, which has been operating in Sri Lanka since 1997, has one third of its workforce employed in Sri Lanka catering to its global clientele exceeding
100 organizations.

IFS specialises in offering Enterprise Resource Planning (ERP), Enterprise Asset Management (EAM) and Field Service Management (FSM) solutions.

IFS Sri Lankan office plans to recruit 300 more local tech graduates increasing its workforce to 1, 600 in Sri Lanka this year to expand their research and development, customer support and consultative operations teams. Further, IFS would also increase its IT offshore resources at the Sri Lankan unit.

Laher noted that IFS didn't experience any disruptions in their operations in Sri Lanka due to recent Easter Sunday attacks.

"We were worried about our staff and their families and friends in the aftermath of these attacks. We were glad to know that they were safe. However, we had no material impact as the employees were able to work from home through remote access," he said.

IFS is also confident of its compliance with the country's proposed cyber security legislation, as the company is already in compliance with more intensive cyber security laws and data protection laws globally.

IFS also has a strong customer base in Sri Lanka exceeding 100 corporates, which include MAS and Singer Sri Lanka.