---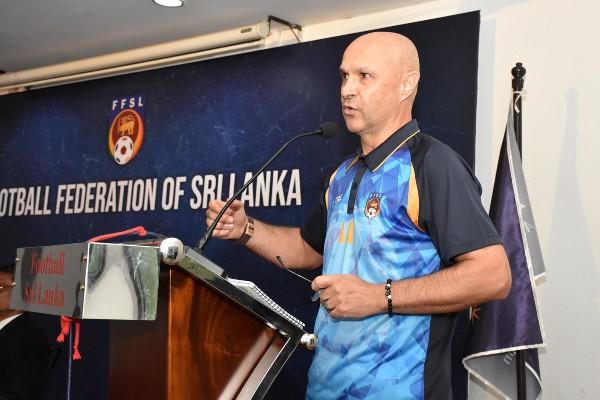 By Susil Premalal
The first major challenge of Bosnian-born football Head Coach Amir Alagic will be preparing the Sri Lanka team for the 2021 SAFF (South Asian Football Federation) Championship which was postponed from this year because of the coronavirus pandemic, Football Federation of Sri Lanka (FFSL) president Anura de Silva said.
Alagic's objective is to produce a good performance rather than aiming to win the upcoming three 2022 FIFA World Cup Qatar Asian preliminary second round qualifiers, rescheduled for October and November, de Silva added.
The three qualifiers are against North Korea on October 8 (away), South Korea in Colombo on October 13 and Lebanon on November 12 (away).
Targeting the World Cup qualifiers and SAAF Championship, the national football pool will commence training after a three-month break at the National Football Training Centre in Beddagana, Kotte on June 22.
"We stopped national pool training on March 16. I see it as a blessing and look at it positively because we have little more time to prepare ourselves with the new coach," said the FFSL president. "The pandemic is still live and active around the world. We will the follow the guidelines for training given by the Ministry of Sports and Institute of Sports Medicine."
Alagic has drawn up plans to begin the first phase of training for 18 players from the national pool who will undergo PCR testing on June 21 before going into a residential camp the following day.
The new head coach has scheduled training in cycles of 21 days followed by a four-day break for the national pool with changes in players being made as and when required.
Australian national Alagic, whose monthly salary is USD 6,000, is armed with a European Pro-Licence as a coach and has drawn up a four-year Master Plan to develop football in Sri Lanka from the grass roots level.
"I came to Sri Lanka with the task of putting the country's football back to winning ways. I can't achieve this objective overnight. Sri Lanka's football has sunk to the depths when compared with other countries. I have to build a solid foundation from the grass root level," said Alagic giving a detailed presentation at a press conference held at Football House on Thursday.
Alagic was also unveiled as Technical Director of FFSL in addition to being head coach, with his salary being funded by AFC (Asian Football Confederation), according to the FFSL president.
"We have invested a substantial amount to transform the training centre. We want to create a better environment for players and to motivate the players to focus on football. We are also hoping to have another small centre at some other location for other players," said de Silva.