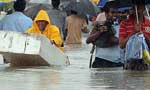 At least 18,917 persons have been affected by the severe weather condition prevailing in the Southern Province for several days, the Disaster Management Center (DMC) said.
Close to 13,057 persons of 3,411 families in the Galle District had been affected by heavy rains, floods and landslides.
"At least 14 houses had been fully damaged. Kadawathsathara, Habaraduwa, Bope-Poddala and Imaduwa Divisional Secretariat areas were the most affected in the Galle district," the DMC said.
Meanwhile, 5,860 persons in Matara District have also been affected due to the bad weather.
Weligama, Matara, Akuressa and Devinuwara Divisional Secretariat areas in Matara district have also been affected by heavy rains.
The Metrology Department said atmospheric conditions are favorable for showers or thundershowers over most parts of the island during the afternoon and evening.
It further said thundershowers would develop across most parts of the country after 2.00 p.m.
The weather condition is expected to prevail across the Western, Southern and Sabaragamuwa provinces during the morning with heavy rain fall of more than 100 mm expected in some areas.