---
Back to pavement hawking: this govt. is undoing even the best policies of Rajapaksa

hat the current administration is sacrificing the economic future of the country for party political considerations is not just an allegation; it is increasingly becoming a fact.
There is enough evidence to this effect in the suspended mega development projects and their adverse economic fallout, as evident in the downgrading of this year's economic growth forecasts (From 8 per cent to 6.9 per cent).
Given this context, one would not have expected the government to give more ammunition to its critics and, worse still, to undo one of the most visible achievements of the former regime: ban on pavement hawking.
Though Gotabaya Rajapaksa's move to ban street vendors would appear a trivial matter for an uninitiated, it was a decision taken at an immense political cost. It was a decision that none of the predecessors of Mahinda Rajapaksa had the guts to take, given its potential adverse political fallout. It was also a decision that signified a long-term vision for the city and a political will to work decisively to achieve that end.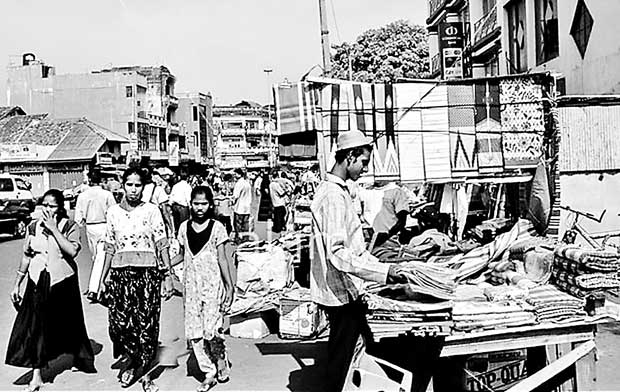 However, UNP Mayor of Colombo A.J.M Muzammil, who last week allowed pavement hawkers back on city streets, in a decision which he himself has admitted was taken due to 'political considerations', has now threatened to reverse that progress.
Gotabaya Rajapaksa cleared city streets and provided street hawkers with alternative venues. Now, Muzammil is on record as saying 1,600 vendors who were provided with stalls in those venues have sold their stalls.
The mayor has now unleashed those crowds on our streets. However, unbeknownst to him, he has reminded us of the merits of Gotabaya Rajapaksa. (Though I am not a fan of Gotabaya Rajapaksa, it would be disingenuous not to acknowledge his contribution to the rejuvenation of Colombo)
With an election on the cards, this is an inopportune time to invoke the virtues of the former regime, especially in the areas it had a superior track record, and the Mayor's own party, UNP, would have lost more voters thanks to his election ploy than a few thousand additional votes it may have secured from the street vendors. Authorities say that hawking would only be allowed during the Ramazan season. However, such guarantees are unlikely to be followed up, without the recourse to police action, for which, again, political will is mandatory. Whether a government or a city council that flushes the long-term interests of the majority of city dwellers down the gutter has the political will to enforce the law against the pavement hawkers who may stay on the city streets after Ramazan is open to question. Muzammil's decision could well be signifying a beginning of an end. A city, which was full of promises and rejuvenating now risks sliding back into its past gloom.





For decades, we lived in the squalor of our capital city. Colombo was microscopic of our dysfunctional society. A country needs a capitol that would showcase its potential. But, Colombo was not that city. It was a rundown veritable mess, of which streets are invaded by hawkers and prime-land is squatted by slum dwellers who accounted for 54 percent of the city population as of 2006. It was ranked among the ten least liveable cities in the world by the Economist Intelligence Unit. Gotabaya Rajapaksa began clearing that mess. During the last couple of years, Colombo was truly turned around.
The former regime launched an ambitious slum relocation project, housed slum dwellers in high-rise apartments, and reclaimed prime land that had been squatted for decades; it cleared city streets of hordes of pavement hawkers; built public places and recreational facilities. Some of the measures that were taken to achieve those ends were not always benign. That is understandable since the government was clearing a rot that had for long been an entrenched part of the city life. Politicians of all political parties feast on that rot.
However, developing the city, or at least rescuing it from its existential plight was not possible without upsetting the then existing social structures. Those retrograde structures bound their inhabitants to low achievement and primitive self of life. But, their numerical clout, cohesiveness and over-reliance on them by self-seeking politicians, gave people, be they slum dwellers or the pavement hawkers, an inflated sense of entitlement. They resisted change and politicians, who were driven by political considerations did not want to upset the status quo.



"Those who would confine their lives to the confines of Colombo 7 may not have noticed the difference; however, the majority of Sri Lankans appreciated those efforts"



Squatting is not a right, nor is unauthorized pavement hawking. Both are offences in a functioning society. However, until recently in Sri Lanka, those were misconstrued as entitlement of a few, at the expense of millions of law abiding Sri Lankans. Gotabaya Rajapaksa confronted that myth. His partly authoritarian implementation of Colombo-city beautification and slum relocation paid off. We are no longer living in a slum town.
Those who would confine their lives to the confines of Colombo 7 may not have noticed the difference; however, the majority of Sri Lankans appreciated those efforts. Now one of the most salient feats of those measures is threatened with reversal. Many other measures, such as slum clearance have been slowed down. The current fiasco tells us a few things: First, it highlights the disturbing tendency of the current government to sacrifice national interest in return for the short-term party political gains. Those were the same self-destructive policies that greatly eroded the economic potentials of once garden city of Asia. Second, they reveal the absence of political will to act decisively to achieve a long-term vision for the country. Third, the merits of the somewhat high-handed urban development drive of the former regime are now being vindicated.
Without the decisiveness and political will shown by the rulers of the former regime, even the modest success that was achieved so far in terms of slum relocation and relocation of street vendors could not have been accomplished.





Countries at the development stage are required to act with decisiveness and a sense of urgency. After all, modern cities from Seoul to Shanghai were built having relocated their slums, and in most instances, causing large scale displacement, which was not the case in our slum relocation exercise.
Recent history would reveal that sometimes pro- growth authoritarian models are better capable of achieving long-term economic visions than models infused with politically correct social anthropology. The greater danger is that the current administration or a UNP government that would be formed after the forthcoming general election could pander into the regressive impulses of its electorate in Colombo, and reverse or abandon the slum relocation programme.
Such concerns are increasingly gaining currency, given the recent mishandling of economy by the government, such as the suspension of $ 1.4 billion Colombo Port City on flimsy legal grounds.
Also, UNP's reliance in Colombo as its main electoral base gives it less incentives to act decisively in a slum relocation campaign. Why Gotabaya could spearhead his aggressive campaign, without worrying about its political fallout was that the affected communities were mainly UNP voters. The UNP would have a different take on the issue and at best would opt for half-hearted measures, which are unlikely to address the core problem.
The bottom line is that the inhabitants in those communities would be the ultimate losers. Their conditions are so entrenched, that they have to be addressed through a decisive top down measures by a decisive government. However, without a government that is willing to enforce its writ, such measures would not be taken off the ground. Those communities are better served and more economic opportunities are created when those reclaimed slum lands are out into viable economic use.





Finally, by its action, or inaction, this government is making its recent achievements in restoring democracy less tempting to the people. It makes aspiring Sri Lankans who want their government to deliver economic prosperity, feel the incumbent administration is not capable of that. Whereas, most Sri Lankans think the former authoritarian government of Mahinda Rajapaksa was successful in delivering growth and putting much needed infrastructure in place. In the absence of a democratic alternative, Sri Lankans would desperately look for Rajapaksas. That is sad since the UNP is supposed to be better economic managers.
That is also bad news for democracy. Despite all positive contributions, the Rajapaksas have an authoritarian streak that Sri Lanka's new democracy cannot withstand. However, by their inaction on the economic front, this government is eroding the allure of its most salient achievement: restoration of democracy. It would not be long before its fallacies such as letting pavement hawkers back on the city streets would come to haunt it.

Follow Ranga Jayasuriya @RangaJayasuriya on Twitter
---
Add comment

Comments will be edited (grammar, spelling and slang) and authorized at the discretion of Daily Mirror online. The website also has the right not to publish selected comments.

---