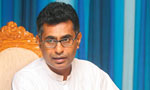 The Ceylon Electricity Board (CEB) will convert all its furnace oil and diesel powered power plants to gas powered plants in the near future using the gas deposits found in the Mannar basin which will be a major turning point of the economic, trade and industrial progress in Sri Lanka, Power and Energy Minister Patali Champika Ranawaka said.
Delivering the keynote address at a ceremony held to mark the World Ocean Day at the Sri Lanka Foundation, Minister Ranawaka said the idea that Sri Lanka possesses oil and gas deposits was floating since mid 20th century and there were several attempts to detect them. Ultimately, the seismic studies and subsequent excavations carried out in and around the Mannar basin concluded successfully with the detection of gas deposits in the Mannar basin.
"Our target is to pump gas to Kerawalapitya from Mannar at the first phase and provide gas generated power to the Colombo city. We expect to set up an authority with necessary legal and controlling power by October to deal with gas exports by calling international tender. The present government has undertaken a hugely indebted administration as the previous government has spent four fold of funds than the required amount on almost all projects. As a result, each and every member of the present and future generations has been indebted to nearly Rs. 400.000. The government has no option but to run the economy through Treasury Bond issue which is also a huge burden to the economy," Minister Ranawaka stressed.
Minister Ranawaka pointed out that time is right for Sri Lanka to come out of this debt trap if we are to achieve economic, social, cultural and human progress. The sound economic management must be an integral part of the economic development. In the past, our leaders were lamenting that Sri Lanka did not have enough natural resources such as gas, oil, coal or iron to achieve a speedier development. Fortunately, no one can say that now. The successful gas exploration in the North of Sri Lanka is a golden opportunity Sri Lanka has received to expedite our development, he emphasized.
It is important to realize that no country could achieve instant success only by detecting natural resources if that country fails to exploit the new found wealth under a pragmatic leadership and sound management. The best example is Norway and Nigeria. Norway jump started its journey to achieve its development goals soon after finding oil and gas in late 60s and became a highly developed country in the new world in a few years. Nigeria remains an impoverished country with widespread sectoral, religious and political violence while sitting on a deposit of 35 billion billion barrels of petroleum. Oil resources were found in Nigeria in late 50s. Nigeria is also the 10th country in the world with oil and gas resources. However, the per capita income of Nigeria is US$ 3,000 while in Norway it is US$ 86,000.
Minister Ranawaka emphasized that it was extremely vital not to make the environment a victim of the exploitation of petroleum resources as the humans have done much damage already to the nature by their haphazard and over usage of fossil fuel. We must use petroleum resources found off shore without harming the sea. 'Under the United Nations Convention on the Law Of the Sea,' Sri Lanka can claim for the proprietary rights to a an extent of 23 times of its land mass or the size of one third of land mass of India. Our responsibility and commitment must be to use this vast resources for the benefit of our country while protecting the nature, Minister Ranawaka stressed.
Caption - A student who won a competition held by the Marine Environment Protection Authority receives her gift from Power and Energy Minister Patali Champika Ranawaka at the ceremony.
(Sandun A Jayasekera)