---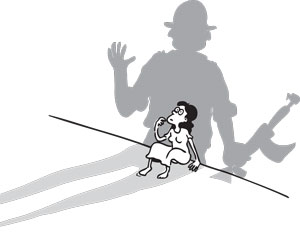 Amid an increasing number of reports of sexual abuse and violence against women and children even in Sri Lanka, the world was shocked by a United Nations report from the devastated, poverty-stricken Haiti. The report said UN peacekeepers had been engaged in transactional sex with more than 225 women and girls, who engaged in the activities to get essentials like food and medicine in return.

About 75 of the girls or women sexually abused by the UN's stabilization mission in Haiti involved minors under 18, according to a new draft report by the UN Office of Internal Oversight Services (OIOS).

According to the report, victims claimed they had been forced to carry out sexual acts with UN peacekeepers in return for basic necessities. For rural women, hunger, lack of shelter, baby care items, medication and household items were frequently cited as the triggering need, the report said.
The report said sexual exploitation by some 125,000 UN peacekeepers around the globe remained significantly underreported in such missions, suggesting that the real number of those abused in Haiti may be higher.

In an even more shocking report that is a disgrace and a warning to the whole world, a UN envoy reported on Monday that teenage girls abducted by ISIS fighters in Iraq and Syria were being sold in slave markets for as little as a pack of cigarettes. Zainab Bangura, the UN Special Rapporteur on sexual violence, visited Iraq and Syria in April, and has since been working on an action plan to address the horrific sexual violence being waged by ISIS fighters. This is a war that is being fought on the bodies of women, Ms. Bangura told a world news agency in an interview.
The UN envoy spoke to women and girls who had escaped from captivity in ISIS-controlled areas, met with local religious and political leaders and visited refugees in Turkey, Lebanon and Jordan.

Jihadists continue to run slave markets for girls abducted during fresh offensives, but there are no figures on the numbers enslaved by the fighters. They kidnap and abduct women when they take areas so they have, I don't want to call it a fresh supply but they have new girls, she said. Girls are sold for as little as a pack of cigarettes or for several hundred or thousand dollars.

Ms. Bangura described the ordeal of several teenage girls, many of whom were part of the Yazidi minority targeted by the jihadists. Some were taken, locked up in a room, over 100 of them in a small house, stripped naked and washed. They were then made to stand in front of a group of men who decided what you are worth.

Ms. Bangura gave the account of a 15-year-old girl who was sold to an ISIS leader, a sheikh aged in his 50s, who showed her a gun and a stick and told her "tell me what you want." She said the gun and he replied: I didn't buy you so that you could kill yourself before raping her, Ms. Bangura said.

In Sri Lanka, at Angunukolapelessa, a protest was held opposite the Police Station on Wednesday evening and yesterday morning against the release on bail of a businessman who had been arrested for allegedly raping an underage girl on numerous occasions. Police Media Spokesperson Ruwan Gunasekara said the 12-year-old child was receiving treatment at the Hambantota hospital. Later yesterday, the suspect was remanded. At Puttlam three youth were arrested by police for allegedly raping a 17-year-old girl. According to Police, the girl was first raped by her 19-year-old boyfriend who had taken her to an abandoned coconut estate in Kalladiya area. After that another two youth who had blackmailed the girl and said they had videoed the earlier rape had raped her more than ten times. These are the latest of a growing number of such atrocities, following the horror in Kayts last month.

Rosy Senanayake, Minister of State in charge of women's and children's affairs has been regularly promising that tough laws would be introduced and implemented against such barbaric offenders. We hope such action would be taken soon because with at least four major religions supposed to be practised here, it is a shame and a shame, a disgrace and a disgrace that women and children are being sexually tortured so often.
---
Add comment

Comments will be edited (grammar, spelling and slang) and authorized at the discretion of Daily Mirror online. The website also has the right not to publish selected comments.

---