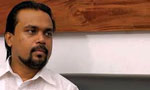 Legal action should be taken against Foreign Affairs Minister Mangala Samaraweera for violating Sri Lanka's Penal Code by voting in favour of gay rights at the UN, National Freedom Front (NFF) Leader Wimal Weerawansa said today.
He said the Foreign Affairs Ministry had voted against a resolution submitted by Russia calling for the withdrawal of benefits for gay and lesbian couples.
"Being gay and lesbian-friendly has become our foreign policy today. This will result in negative consequences in the long run for Sri Lanka. It will affect our culture. Therefore, the minister should be arrested for violating the Penal Code," Mr. Weerawansa told a news conference.
Meanwhile, Pivithuru Hela Urumaya (PHU) General Secretary Udaya Gammanpila said right of equality doesn't mean all groups are equally recognized.
"Right for equality is something considered before the law. It means a person's sexual orientation, religion or language should not be considered when making a legal decision on that person. It doesn't mean all groups are equally recognized. It's a wrong interpretation," he said.
The UN Secretary-General early this year issued an administrative circular that offered marital benefits to the UN's lesbian and gay employees as well as to its other workers who had entered legally recognized domestic partnerships.
Subsequently Russia brought a resolution calling for the withdrawal of these benefits to same-sex couples. It was however defeated by a majority of vote including that of Sri Lanka.
Clarifying the issue, Deputy Foreign Affairs Minister Ajith P. Perera had earlier categorically denied that Sri Lanka had voted to promote same-sex marriages and said the circular in question was submitted by the UN Secretary General on a matter dealing with UN administration.
(Lahiru Pothmulla)