---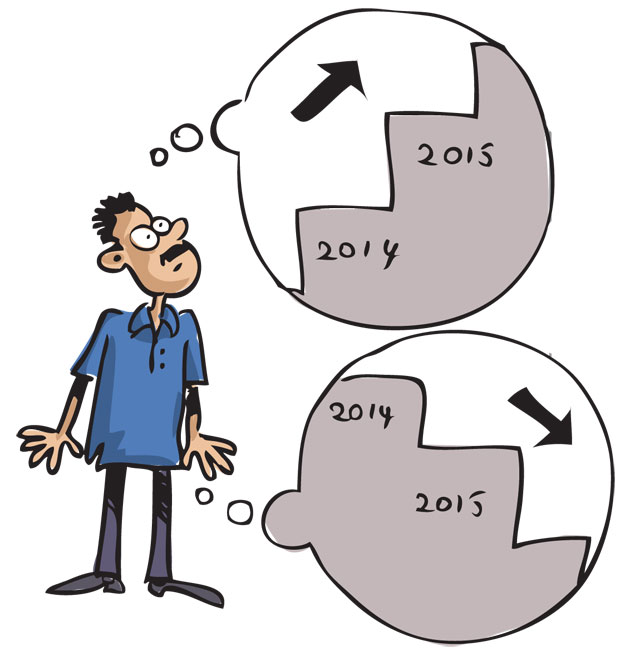 Another New Year 2015 dawned today and while the goodwill of the hundreds of Happy New Year greetings we give and receive generates positive vibrations, it is also a good time for sincere inner reflection leading to a change of hearts and attitudes.

This inner change needs to begin especially in the ruling alliance political leaders, religious, social and others taking leadership roles. They need to remember that big talk is like a noisy gong and example speaks louder than a thousand words. Sincere repentance and a change of attitude transform not only the person concerned, but society itself.

The test of a person's character is seen not so much in adversity but when a person is given power. Those wielding political power need to make a New Year resolution that they will allow themselves to be inwardly liberated from the deepest form of slavery --the slavery to themselves, selfishness and self-centredness, the desire for personal gain or glory, power, prestige or popularity. Unless and until this inner freedom is experienced and acted upon genuinely, other freedoms will be meaningless. Instead of inner liberation the leaders concerned will be caught up in the rat-traps of hypocrisy while history will brand them as sanctimonious humbugs or whitewashed sepulchres. Inner liberation alone will spiritually empower such leaders to work for the liberation of millions of people who are trapped in enslaved poverty. Such leaders will act with a vision and a mission knowing that the sustainable solution to poverty is not more wealth - but justice.

The poor today are poor because somewhere down the centuries a system manipulated by the rich and powerful elite robbed the poor of their wealth and resources. It happened then in a brazen way and it is happening today in more subtle ways such as economic neo-colonialism with the battle tanks including powerful trans-national corporations which have their fifth columns or secret networks among the ruling elite of developing countries. We see this in Sri Lanka also.

For instance, former Health Minister and now the Opposition's common candidate Maithripala Sirisena recently alleged that trans-national pharmaceutical giants had paid as much as Rs. 1000 million to top Government politicians and officials to dilute, delay or sabotage the legislation to implement the National Medicinal Drugs Policy (NMDP) based on Prof. Senaka Bibile's essential medicines concept. An eminently reliable source said the Minister had once been told, "if you care for your life, drop this Bill". It reminds us of what happened or did not happen to the revered Prof. Bibile in 1978. Whatever happened, Mr. Sirisena has assured that with the intention of providing quality drugs to the people at affordable prices, the NMDP Bill, will be presented in Parliament on February 16, if he is elected to power.

For the common people who also need to experience inner liberation for them to get involved in civic action and social justice, the New Year resolutions would centre on issues related to lifestyle, climate change and the environment.

Literally and otherwise, a hypocrite has been described as a saint outside but a villain at home. So whatever inner liberation or transformation needs to begin in the family, which is the nucleus of society. Love, forgiveness and compassion, caring and sacrificially sharing with one another need to be practised instead of just being preached. Parents and children need to remember that rights and responsibilities are linked. Only to the extent we fulfill our responsibilities are we entitled to our rights. For instance, a drunkard or alcoholic father who wastes the family money cannot claim the rights of a father.

Overall, to move towards the noble goal of a just and fair society, families could make a New Year resolution to commit themselves to a simple and humble lifestyle. We need to manage with our basic needs without desiring luxuries or extravagance. If we practice alpechethavaya, then what we save we could share with a poor family to restore their human dignity. If 100,000 families do this, then the human dignity of 100,000 poor families could be restored and it would be a wonderful 2015.