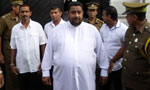 Maverick Deputy Minister Nishantha Muthuhettigama, remanded on charges of having abducted three suspects from police custody, was today produced before the Baddegama Magistrate Chandima Edirimanna and released on bail with two sureties of Rs.500,000 each.
Mr. Muthuhettigama's driver Methsiri Chaminda was also released by the Magistrate on a surety bail of Rs.100,000.
A group of people including Deputy Minister Muthuhettigama are alleged to have abducted three suspects arrested in connection with the Wanduramba attack on Maithripala Sirisena's campaign stage.
The Court issued arrest warrants against the Deputy Minister and his driver and had ordered that the warrant be executed through the Police Chief.
Meanwhile, Mr. Muthuhettigama's passport was impounded by Court and an order issued restraining him from entering police stations coming under the Baddegama judicial jurisdiction including Baddegama, Nagoda, Hiniduma, Neluwa, Yakkalamulla and Undugama until the case against him was concluded.
The Magistrate severely warned Mr. Muthuhettigama not to repeat such behaviour as a responsible public representative.
(D.G. Sugathapala)