---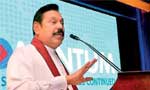 Political continuity, good governance, stability and end of corruption were the key messages conveyed by President Mahinda Rajapaksa when top businessmen rallied towards his cause yesterday at a business forum titled 'Momentum' - Asia's Largest Synchronized Forum hosted by 'Professionals for a Stable Sri Lanka'.
"Yes, the election. When will we harvest part of the success of the previous five years? Isn't this a record you're glad to share and be part of? You're our major partner in this progress," the President spoke of continuing economic development.He stated t hat t he private sector has a major role to play in furthering development without being distracted by untested political thinking and practices or being diverted into areas of unknown.

President Rajapaksa said that the public had mandated him to achieve peace, security and stability during his first term, during which he could not have concurrently engaged in economic development.He expressed that the postconflict focus was t o create a platform for rapid social development, economic empowerment and restoration of democratic processes, which have proceeded steadily, and said that the development projects which have been undertaken will be continued, while national progress will be accelerated.

Defence and Urban Development Ministry Secretary Gotabaya Rajapaksa added that five years were too short a term to achieve all those good deeds that the government has aspired to, thereby justifying the President's third term.President Rajapaksa pledged to i mprove education and further explore opportunities of renewable, clean and uninterrupted energy while seeking to eliminate poverty and any remaining corruption in the coming years.

"Achieving results is good governance. Not achieving results is corrupt governance. We have achieved, so it's good governance," President Rajapaksa said.
Leading private sector figures: MAS Holdings Group Director Dian Gomes, Cargills Deputy Chairman/CEO Ranjit Page, Jetwing Group Chairman Hiran Cooray and Chevron Lubricants Managing Director Kishu Gomes acknowledged the achievements of peace, stability and good governance under President Rajapaksa's leadership, which have led to further success of their respective businesses.

"During the time of war, we could only t hink of surviving, nothing more," Cooray said.Cooray said that while developed infrastructure was used to promote tourism, the biggest beneficiaries were locals and their businesses.Kishu Gomes agreed but said that certain issues still need to be addressed and that he has confidence they would be resolved in the future.

They each delivered a keynote address at four locations: Cinnamon Grand, Cinnamon Lakeside, Hotel Galadari and Hilton Colombo Residencies, which hosted Momentum via live streaming.Common Opposition Presidential Candidate Maithripala Sirisena will be releasing his election manifesto and is expected to address the Sri Lankan business community with his plans for the economy in the near future.His political platform includes re-establishing good governance, law and order and the abolishment of the executive presidency.