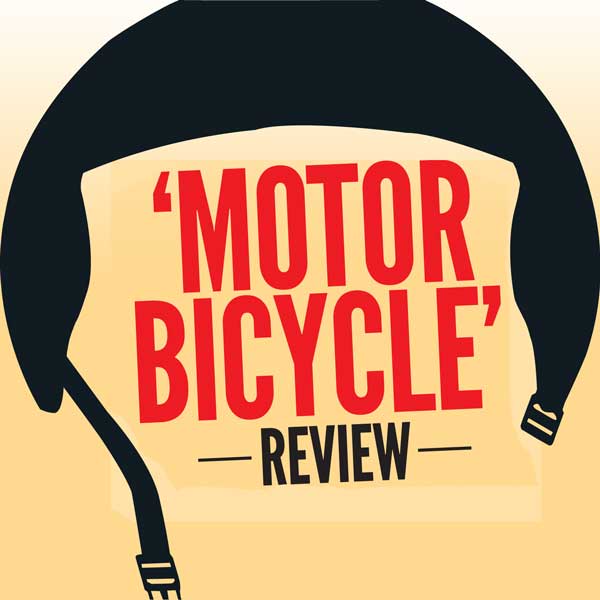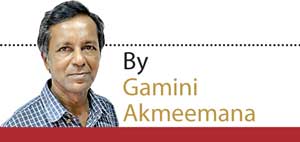 The film feels exactly the right length, neither too short nor too long. It's about a hard up young musician from a 'watta' (Colombo tenement area, or slum) who buys a stolen motorcycle, an act which proves to be his undoing. More than half the film is one long sequence – a ride with his girlfriend which is a condensed visual commentary on the travails of young lovers in Sri Lanka, portrayed with sardonic humour. The titles sequence, seemingly shot randomly from Colombo daily life, sets the tone for what is to follow.

Without trying to take away any of the credit due to this bold, innovative young film maker, one can make the following critical comments about his maiden cinematic effort.
On the technical side, he shows a very promising assurance. Having worked as assistant director in several features, he has learned his craft painstakingly. The scripting has a weakness, which shall be pointed out below. The following analysis is about Naotunna's world view, which is what sets the better directors apart from the average anywhere in the world. There's something disturbing about the way he views the world. For someone so young, it's very cynical.

The film-maker says he grew up in a slum. Therefore, his world view is fashioned by that and he should know what he's talking about. People are not fashioned by their environment alone. Otherwise, everyone who grew up in Colombo 7 should be angels while all who hail from Wanatamulla should be criminals. The film-maker gives the impression that there are no decent people in slums. That's his current world view. Unless he comes to terms with that, his films in future will remain dwarfed by a necessarily one-sided world view.

Comparisons have been made with Dharmasena Pathiraja's Ahas Gawwa. But the two films work on two different levels. The titles are highly suggestive of this. 'Ahas Gawwa' is not a colloquial term of every day speech, whereas 'motor bicycle' is as everyday as it can get. Pathiraja's approach was classical and romantic. His jobless young men are idealists trying to survive in a harsh world and their romanticism is captured beautifully in that holiday sequence when their Spartan existence is illuminated, for once, by day-dreaming and fantasizing, which portray their longings and frustrations, including sexual, in a most moving and lyrical manner.

'Motor bicycle' is down-to-earth and remains earth bound during its entire length. Another difference between the two films is that there isn't a single redeeming quality in any of the latter's characters. Pathiraja's vagabonds have an endearing side to them as played by Wimal Kumar de Costa and Amarasiri Kalansuriya. You feel sad when one of them dies. There is a sense of loss. But there isn't a single such character in 'Motor Bicycle.'
This is perhaps a reflection of the harsher times we live in. But was life any sweeter (especially if you were jobless) forty or fifty years ago? The 'toughie' in Panchikawatte (a cameo played with aplomb by Mahendra Perera) who sells Rangana (the film's anti-hero played very well by Dasun Pathirana) a stolen motorcycle at a bargain price immediately demands his cut from the seller. The bike-riding mafia gunman who offers a ride to Rangana uses him as bait when a caller warns him he's about to be killed.

If we take Dasun's character, it is less than endearing. When he sees a few neighbourhood kids playing with his bike, he chases them away viciously and even kicks them. He cheats a three wheeler driver and doesn't hesitate to blackmail his poverty-stricken mother (Veena Jayakody) into pawning her necklace so that he can buy a motorcycle. One might expect him to learn something from his more sophisticated girlfriend (Tania, played by Samanlee Fonseka). But alas, she has no redeeming qualities either.

Towards the end, she asks him about his future plans; she knows what they are (he dreams of making it to the finals of a TV reality show) and tells him that she has decided to break off the affair. She is very ladylike about it and even apologises in the most heart-rending of tones, which is like wrapping the head of a hammer with a silk handkerchief before hitting someone's jaw with it.

Incidentally, the theme of a penniless musician in love with a socially more mobile girl goes back at least four decades in Sri Lankan cinema, showing that some things don't really change. But the difference between then and now is this – young women were quite ready to face the worst in the name of love back then (at any rate in films; witness Duleeka, Wasana and Vishmaya) while the girl in 'Motorbicycle' has a calculator working furiously inside her shapely head even as tears fall from her eyes. These people are hard-headed realists at such a tender age, which should leave old age something to be wondered at.

Samanalee Fonseka's acting is excellent. When we first see her meeting her boyfriend on his motorcycle, she speaks in the same chirpy, caressing tone of a female FM radio announcer. As things get more serious, her voice too, changes along with her expressions. But we come back again to that subject of redeeming qualities (she has none). In the films that I remember best, people do have such qualities which endear them to us.

In Sri Lankan cinema, we had the character Nissanka played by Tony Ranasinghe in Lester James Pieris' Delovak Athara, an arrogant rich young man who accidentally killed a man in a hit-and-run incident and tried to get away with it before finally admitting to himself that he was not above the law and turning himself in. That is a redeeming quality. In Getawarayo, a more commercial film made by Mike Wilson and Tissa Liyanasuriya, Gamini Fonseka plays a village youth who made it in Colombo but forgot his village girlfriend, only to find that she was no longer there for him when he returned home. The deep pathos evinced by this character is a redeeming quality.

If we take foreign examples, in 'Easy Rider' ( a 'biker' film, which 'Motor Bicycle' is not), the characters Wyatt and Billy played by Henry Fonda and Dennis Hopper are people who willingly go against conventional wisdom. Both are a little crazy but they can trust each other, forgiving each other's blunders and excesses. That is a redeeming quality. In Luc Besson's 'Leon,' the vengeful teenage girl (Natalie Portman) who befriends a lone wolf gunman -- she wants to avenge the murder of her family by undercover policemen -- finds in him a faithful friend and not a child molester. His only friend, a middle-aged café owner, promises to look after her (and the money deposited in her name) in case the gunman dies, and he keeps his promise. These are redeeming qualities.

Of course, this is not an argument that when an artiste sets out to create a work of art (be it fiction, film or drama) he doesn't have to fill it with characters who have such qualities. But it's much nicer when that does happen, which is why it's easier to read Dostoevsky than Jean Genet. In Crime and Punishment, Raskolnikov commits murder but has more than one redeeming quality – he truly loves his girlfriend, who is a street walker, and in the end he confesses to murder. I am ready to grant that some of the people I meet in life are such morons that I do not ever want to see them again. Fortunately, they are outnumbered by nicer people or I would have fled to some uninhabited island long ago.

It's sad to discover so much cynicism in such a young film-maker. That might help a lengthy career in film-making, but one could hope for a more equitable world view, as maturity arrives with age. Actually, I have met some nice people living in the slums and tenement areas of Colombo. Undoubtedly, some of these roofs harbour thieves and murderers but any statistician will tell you that shady characters can also be found well above the poverty line at posh addresses.

Granted that the film-maker depicts a harsh world, murders are committed at random by people arriving in white vans. It's a dog-eat-dog world. In this context, one might glean a redeeming quality in Rangana – his love and respect for his girlfriend, even though he gets her to push his motorcycle when it breaks down.

They try to find some intimacy in a rented 'guest house' room. When the mood breaks down after continuous interruptions, he gallantly buttons up her blouse. The magic moment is over. Again, he accepts her announcement of a break up silently, without tantrums, as if he knows that he's a born loser. But the power of this love is defied by a weakness in the script. After getting his precious motorcycle, he spends quite some time before finally showing it to his girlfriend when that was the first thing he should have done.

The cinematography by Vishwajith Karunaratne is adequate but lacks the kind of quiet lyricism this kind of film requires. The music (including several songs) by Ajith Kumarasiri works well at times and the songs come in several styles, including reggae and folk ballad. This is a promising film by a promising talent. But it shows a world devoid of humanity, which isn't quite what we, and the film's characters, deserve.