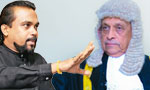 Speaker Karu Jayasuriya yesterday accused joint opposition MP Wimal Weerawansa of threatening him when he attempted to restrain the government and opposition MPs over the gazette notification on the Value Added Tax (VAT) Amendment Bill. However Mr. Weerawansa denied the allegation.
However, the argument flared up when Acting Finance Minister Lakshman Yapa presented the observations of the government printer and the Attorney General (AG) with regard to the date in which the Bill had been gazetted.
MP Bandula Gunawardene who raised an objection said the gazette had been issued prior to the approval of the Cabinet.
MP Dinesh Gunawardene who joined the argument said the AG's letter did not refer to the gazette notification. Meanwhile, MP Wimal Weerawansa who also came up with a similar sentiment said the letter by the government printer was irrelevant.
However, Minister Abeywardena stated that the letters were sent by the government printer and the AG in response to an inquiry made by his ministry with regard to the Bill and the gazette.
"The general gazette is issued every Friday while supplements are printed thereafter. Therefore, the date of issue should be September 13, 2016," Mr. Abeywardena said reading out the letter sent by the government printer.
"I am of the view that the provisions of the Draft Bill are not inconsistent with the Constitution. The Bill is not subject to any prohibitions or restrictions imposed by the 13th Amendment to the Constitution," he added, quoting from the letter sent by the AG.
Meanwhile, Leader of the House Lakshman Kiriella said there was no issue as a minister had the right to present a Bill to Parliament when it was approved by the Cabinet as per the Constitution.
Joining this heated discussion, Minister SB Dissanayake said there was no issue in printing the gazette before approval of a Bill by the Cabinet, as it stands void if was not approved.
However, Speaker Karu Jayasuriya said there was nothing to argue about as he had accepted the presentation of the Bill. (Yohan Perera and Kelum Bandara)