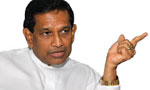 Cabinet Spokesman and Health Minister Rajitha Senaratne said if there was an issue with regard to the massive profits made by Perpetual Treasuries, they would request the President for a probe on the matter.
The Perpetual Treasuries earlier linked to former Central Bank Governor Arjua Mahendran's son-in-law had recorded a profit of more than Rs.5.3 billion as at March 2015 while it had received its license to engage in bond trading only in 2013.
"If there is anything unusual it will be good to initiate a probe," the minister said and added that they have taken the initial step with regard to the Bond scandal. He was quick to note that there were no such action taken with regard to what took place during the previous regime.
He said President Sirisena was concerned about development and as such will no doubt order an inquiry.
Responding to another question, the minister admitted that the process of legal action against big- time fraudsters in the previous regime was slow and lethargic.
"I don't know exactly where the inaction is. It may be at the Police, CID, FCID, PRECIFAC or at the Attorney General's Department. I myself and Minister Patali Champika Ranawaka have raised this issue on many occasions in the cabinet but surprisingly no progress has been made and those who mismanaged, stole and embezzled billions of rupees are still at large. Only those who controversially imported a carom board or cricket bat have been charged. This must be changed sooner than later and bring those 'thoru' and 'moru' before the law," the minister said and pointed out that if swift action was not taken against the culprits the people would lose their confidence in the unity government.(Sandun A Jayasekera)