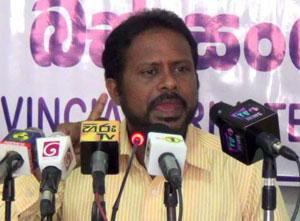 An islandwide bus strike would be launched from Sunday, July 3 midnight, All Ceylon Private Bus Owners Association (ACPBA) Secretary Anjana Priyanjith said today.
He confirmed that their island-wide bus strike would be held as planned from midnight July 3 since the authorities had failed address their demands.
Addressing a press conference held at the Narahenpita Women's Research and Training Centre, Priyanjith said yesterday there were no discussions arranged by the National Transport Commission (NTC) as claimed.
"All arrangements have been made to launch the island-wide strike. There is no turning back without increasing the minimum bus fare by Rs. 2 and other fares by 15 percent by July 1. We gave a two-week notice to relevant authorities," he said.
He said they were not agreeable to the 3.2 and the 6 percent bus fare increments by the NTC.
He said the bus fare revision had been made without considering relevant criteria or having any discussion with bus operators.
He said it seemed that Gemunu Wijeratne of Lanka Private Bus Owners' Association (LPBOA) had made deals with the Government and trying to forget the bus fare increment.
"If Gemunu is ready to make deals with the Government, he will see what will happen on July 3. There is no room to destroy the private bus industry by entering into deals with the Yahapalanaya Government. He also had connections with the previous regime as well," Anjana Priyanjith said. (Chatuanga Pradeep)