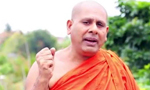 Leader of the Janasetha Peramuna, Battaramulle Seelarathana Thero lodged a complaint at the Police Financial Crimes Investigation Division (FCID) against the Central Bank Governor Arjuna Mahendran citing non declaration of assets.
Seelarathana Thero met the Deputy Inspector General (IGP) in charge of the FCID Ravi Waidyalankara and had reportedly produced documents supporting his complaint against the Governor.
The DIG had however declined to receive the complaint and had instead directed the Thero to the Inspector General of Police.
When questioned DIG Waidyalankara said that it was not his authority to determine whether it was a complaint to be investigated under the FCID and it was IGP Pujith Jayasundara who would decide which law enforcement agency is most suitable to probe it.
However, the DIG said that it is much likely to be probed under the Commission to Investigate Allegations of Bribery or Corruption as it is a complaint regarding non declaration of assets. (Kurulu Koojana Kariyakarawana)
Video by Richan