---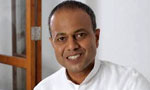 A gang, inspired by violent scenes in South Indian cinema, is engaged in emulating them for various criminal activities in the Jaffna peninsula according to initial observations , Law and Order Minister Sagala Ratnayake informed Parliament yesterday.
The Minister , in his statement tabled in the House in response to a question raised by EPDP leader Douglas Devananda earlier, said many such gangsters had been arrested and remanded
He said in the statement that the gang called ' Ava Group' was first identified by the Chunnakam police in Jaffna after a crackdown. These gang members have been accused of housebreaks, assaults, sword attacks and damaging a house .
The Minister said a breakaway group of this group had formed a gang called 'Rock Team', and six of its criminals had been arrested along with two swords, one dagger, two hand grenades and two stolen motor bikes.
They have been produced before a court of law. He noted that intelligence operations were underway for information gathering on the activities of this gang.
In response to another matter raised by Mr. Devananda under the same question, the Minister said Sri Lanka Navy had increased its vigilance to curb the smuggling of Kerala Ganga and other narcotics.
In 2015, the Navy had seized 456 kilos of Kerala Ganja on 21 occasions . On tours of these occasions, mid sea arrests have been made.
In the overall context, he said there was a drop of criminal cases in the Jaffna peninsula over the years. (Kelum Bandara and Yohan Perera)