---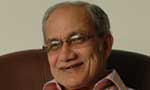 Former Janatha Vimukthi Peramuna (JVP) leader Somawansa Amarasinghe (73) passed away at his brother's house in Kaduwela last night after a brief illness, family sources said.
Amarasinghe, the fourth leader of the JVP, led the party for nearly 25 years before resigning last year amidst claims that there was no democracy within the JVP and formed the "Janatha Sewaka Pakshaya".
Janatha Sewaka Pakshaya's national organiser Jayantha Wijesinghe said the central committee of Janatha Sewaka Pakshaya and Mr. Amarasinghe's family members had decided to hold the funeral on Saturday (18) at the Borella cemetery.
He said Mr. Amarasinghe's body would lie at his sister's residence at Sinhapura, Battaramulla, for the people to pay their last respects.
Video by Richan