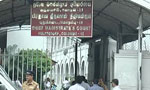 Sri Lanka Ports Authority (SLPA) Chairman Dhammika Ranatunga, today threatened several journalists with death at the Colombo High Court premises.
Ranatunga who arrived at the premises to attend the hearing for the bail application revision for his brother Nishantha Ranatunga, threatened the journalists when they captured visuals of him entering the premises.
The journalists, representing several media outlets, captured Ranatunga's threats on camera and will lodge a police complaint against him.
Nishantha Ranatunga, former CSN Senior Executive, was remanded on charges of violating the Public Property Act. (Shehan Chamika Silva)
Video by Courts Prasanna