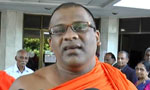 From any point of view Buddhist monks in recent history have lacked a strong leader, compared to other religions, Bodu Bala Sena (BBS) General Secretary Ven. Galagodaaththe Gnanasara Thera said.
"We have leaders in our two Nikayas. As every other religion has its own leader, Buddha Sasana also needs to have a leader to represent all the Buddhist monks," Thera said.
"The president we have is a Sri Lankan Buddhist but he is presented as a nominal figure," he said.
He made these comments after he appeared before the Appeals Court today regarding a case filed against him. The next hearing had been fixed for March 28, the Thera said.
He said that although there have been responsible persons and authorities, Buddhist monks in the country have been silenced.
"This has caused the decline in Sinhala Buddhists," he also said.
"No one is here to talk about the pressure that is exerted on the Sri Lankan Buddhist people by the Christian extremists. We have now severely been surrounded by the Christian extremist forces.
Therefore authorities should open their eyes to start a struggle to defeat the Christian extremist forces and to save Sri Lankan Buddhists," the Thera also said. (Chaturanga Pradeep)
Video by Court Prasana