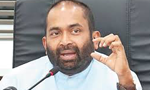 We are contemplating whether to disconnect traffic lights from the national grid and connect them to an independent source to prevent traffic congestion that occur during a power failures similar to what happened last Thursday, Power and Renewable Energy Minister Ranjith Siyambalapitiya said.

He said according to the reports he had received the countrywide power failure which knocked out the traffic lights as well had caused havoc on almost all major roads with the Western Province being the worst affected.
"I myself experienced the huge traffic congestion in Colombo with the situation being beyond the control of the traffic police as well," the minister said.
He said he would speak to the Police Chief, Transport Ministry and the local government authorities to work out a strategy that would enable traffic lights to function without disruption even during power failures. (Sandun A Jayasekera)