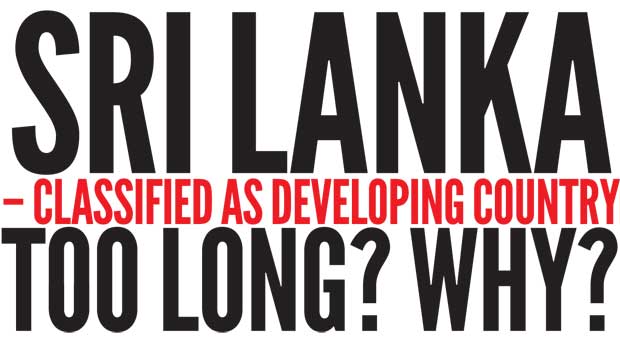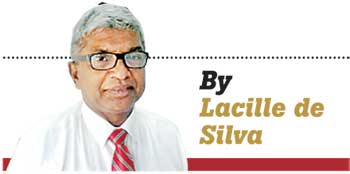 early four decades ago, prior to the commencement of economic reforms and trade liberalization, the then Chinese rulers maintained policies, that kept their economy very poor, stagnant, centrally-controlled, vastly inefficient and relatively isolated from the global economy.

After opening up to foreign trade and investment and implementing free market reforms since 1979, China became one of the world's fastest growing economies. It is now the world's largest economy and has emerged as a major global economic power – a manufacturer, merchandise trader and the holder of large foreign exchange reserves. Why did Sri Lanka fail having initiated economic reforms since 1978 -- one year before China?
Increased production, exchange of goods and services, play a key role in economic development and global integration. Due to languid and lacklustre performance of the public sector, our country is currently classified as a "developing country". The delay in industrialization, inefficient public sector and corruption have been the primary causes for our overall failure.

At the time we became independent in 1948, Sri Lankans enjoyed the third highest per capita income in Asia after Japan and Malaysia. The economy based on three main crops – tea, rubber and coconut brought considerable amount of foreign exchange. Nevertheless, the industrial sector, due to numerous reasons up to 1977 had its own problems because the past rulers failed to pursue a meaningful progressive plan for industrialization. International aid received for development purposes had been abused. Tax payers monies too was plundered. Pompous ceremonies and various other empty rituals including luxury vehicles became more important than improving the lives of the people and taking the country forward.

After a landslide victory for the UNP in 1977, the JR-government pioneered revolutionary changes. Introduced open economic policies and liberalized the economy which eventually had its own pros and cons. Since 1983, year after year, due to worsening economic conditions, the living standards deteriorated rapidly. The question is whether the majority of politicians used the war as a scapegoat! Did they look after themselves without looking after the affairs of the people?
" Since 1983, year after year, due to worsening economic conditions, the living standards deteriorated rapidly. The question is whether the majority of politicians used the war as a scapegoat! Did they look after themselves without looking after the affairs of the people? "

Our politicians instead began delivering various financial and other perks to their own families, friends, relations and good wishers at an exorbitant cost to the Treasury and the poor citizen. Politicians deceived the people by simply granting them political goods. Fertilizer, schools books, uniforms etc. etc. were introduced. It is most unfortunate that these goodies have given the politicians far more unseen benefits than the citizen. What a pity!! the Buddha had preached: "If you knew what I know about the power of giving, you would not let a single meal pass without sharing it in some way".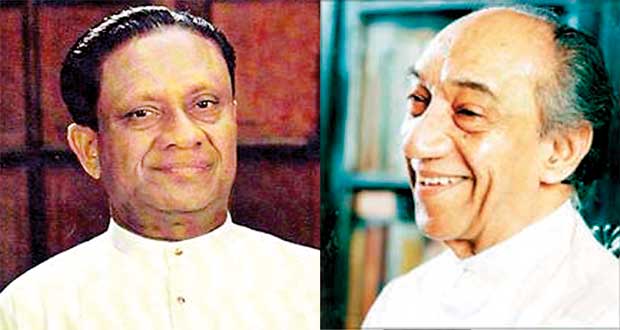 This country has been destroyed beyond imagination due to misrule, fraud, corruption etc. The capable, educated and respected people could not compete in politics with the new breed of corrupt and self-centred politicos. They could not steer the country towards better economic conditions and achieve development. Our country's future depends upon the interest and the understanding we have about these complicated issues. We also must extend maximum co-operation to the present leadership to prevent conflicts, strengthen post-war peace building efforts and achieving development goals and economic stability. If not, we will be strengthening the hands of those corrupt self-centred politicians, who dragged the country to its present plight (having won the war), without solving numerous other tribulations. We must first extend support enthusiastically to put our house in order even after a long delay. A difficult task!
My argument is how did we nose-dive when China succeeded having opened up the economy? This is purely because of bad governance, corruption and political bungling. Corrupt politicians and public officers instead of channelling government resources for development diverted all those for their personal benefit. These have ultimately added heavy costs in our society due to which establishment and development of effective Institutions of good governance have become nearly impossible. Now that we have learnt bitter lessons, it is my firm conclusion that nothing can be achieved unless the government takes a tough stance. It is encouraging that media too as watchdogs of democracy are doing their best in combating corruption etc. In fact, fraud and corruption had posed serious threats to the public sector. Shouldn't we as responsible citizens think of our new role?

China began market-oriented policy reforms that led to far reaching changes in the structure and performance of the production, employment and exports. Incidentally, both Chinese and Sri Lankan governments began numerous industries for export within the framework of a liberalised trading during the same period. We started export-oriented Industrial Zones dedicated to increase and compete with other exporting countries and failed. Why? It is purely because of corrupt, inefficient and ineffective politicos and bureaucratic red tape. I came across several local and international industrialists who were planning to commence large scale industries but disappeared because they were not ready to grease the palms of politicians and bureaucrats under different governments.
Our politicians having introduced liberal economic policies, failed to take the trouble to come up with the necessary reforms to boost the performance of the public service. Nevertheless, Premadasa-regime made considerable attempts to increase the performance of the public sector in several ways by establishing organizational goals, monitoring progress towards achieving the goals, and also to come up with necessary modifications by reducing the excessive cadre to achieve the desired goals more effectively and efficiently.

I recall Sri Lanka Institute of Development Administration (SLIDA) too introduced various training courses to measure the performance of government agencies by introducing key performance indicators (KPIs), Benchmarking, Continuous Improvements (CI), Total Quality Management (TQM), Management by Objectives (MBO) and Quality Control Circles (QCC).

Due to the untiring efforts of the late President Premadasa, there had been considerable progress in all public sector agencies. It is sad to see the things have become even worse now. The public sector has lost its focus when subsequent governments had expanded having recruited their stooges too. It is noteworthy when President Premadasa began changes in the style of running of political machinery, the majority of corrupt and incorrigible politicos came up with the impeachment. It was crushed skilfully with confidence by the late President.
In Switzerland, their development policy is enshrined in the Federal Constitution. The Federal Constitution provides that Switzerland "shall contribute, among other things, to giving relief to populations in need and to fighting poverty as well as promoting the respect for human rights, democracy, peaceful co-existence between peoples and conservation of natural resources."
(Article 54 (2) of the Swiss Constitution).

Swiss example proves a stable economic framework is a fundamental necessity for the country's sustainable growth and a precondition for effectively fighting poverty. The present government is aiming at boosting the performance of the public sector while pursuing an effort to establish good governance, morality and integrity in the public sector employees. It is a commendable step that the government has decided to pay Rs. 25,000 and allow the unemployed youth to serve in the private sector for a period of four years to resolve a burning problem. We should be happy that the PM had decided not to dump them in the overloaded public sector.
Why is that the government trying so hard to reduce corruption? From an economic perspective, political corruption is one of the most unfathomable evils, an endemic cancer which reduces the government revenue, foreign direct investment, the quality of goods produced etc. Corruption no doubt had raised the prices the poor pay for goods and thereby raising the cost of living. From a political perspective, systemic corruption corrodes the legal system, turns the bureaucracy into a self-seeking entity that disregards the public interest, undermines representational democracy and reduces educational funding etc.

From a societal perspective, corruption breeds distrust, rage, despair, and factionalism, exacerbates, the emigration of skilled and qualified citizens, and promotes individual advancement above ethical concerns. All this could ultimately discourage foreign generosity to even grant financial assistance. Larger portions of international aid too seem to have been stolen and had not reached those in need. Rajiv Ghandhi, the late Prime Minister had once said that 85% of government spending on development in India never reached its intended beneficiaries but was robbed at every stage along the way.
It has been proved that due to corruption, the public sector has become ineffective. Weak institutions, high levels of corruption, poor law and order conditions due to manipulative rule of law have brought about frustration, disgust, hate and anger against corrupt public officers and politicians. My own experience is that competent and honest employees have suffered having reduced its capacity for integrity and effectiveness. Instances of dramatic outbreaks of violence too have been observed increasingly. Corrupt public officers have been mobbed by disillusioned general public. Given the pervasiveness of the issues of corruption, inefficiency and ineffectiveness of the total system, we now need to desperately consider new policies that could take the country forward.

The famous formula for corruption is an economic analysis that identifies three "ingredients" of corruption "monopoly + discretion – accountability" needed for a corrupt act to occur. The President and the Prime Minister, have now reached political consensus that rule of law and good governance are a fundamental necessity for our efforts to achieve sustainable development and economic growth - a winning formula when coupled with the political will to achieve the status – A developed nation. This undoubtedly cannot be done overnight!