---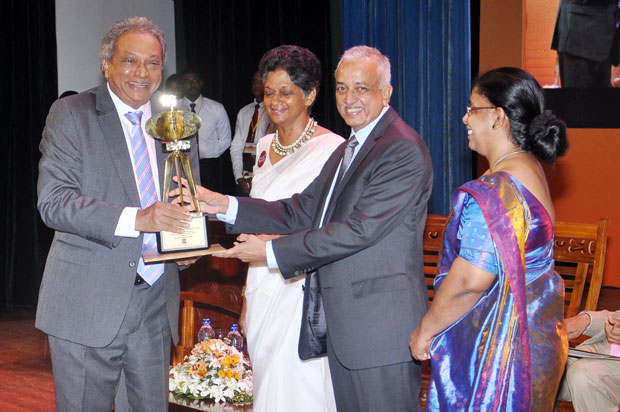 SriLankan Catering Limited (SLC), a fully owned subsidiary of National Carrier SriLankan Airlines, covered itself in more glory when it was named the winner of yet another Presidential Export Award, the third such award in recent years, asrecognition for its steadfast commitment to supporting the nation's economy and the growth of the aviation industry.

Malik Samarawickrama, Minister of Development Strategies & International Trade, presented the award to SriLankan Airlines Group Chairman Ajith Dias at the Presidential Export Awards 2016 at a gala ceremony at Colombo's main international convention centre the BMICH last week. SLC was adjudged the winner as the Highest Value Added Exporter in the Professional Services (Other) category.

Ajith Dias, Group Chairman of SriLankan Airlines, said: "We are honoured to receive yet another Presidential Export Award, as SriLankan Catering and its parent company SriLankan Airlines remain fully committed to serving the nation's economy, the country's air transport industry and the millions of travelers on all airlines that operate to Sri Lanka."

The Presidential Export Awards were adjudged by a panel of judges appointed by the Sri Lanka Export Development Board. SLC was rewarded for its contribution of value added exports amounting to US$ 45.23 million during the financial year 2016/17, an increase from the US$ 42.15 million over the previous year.

Rakhita Jayawardena, Executive Director of SriLankan Airlines, said: "SriLankan Catering has always been an integral member of the SriLankan Airlines Group and we are delighted at the support that SLC continuously provides to the National Carrier. We look forward to an even greater performance in the future."

Lalith Withana, General Manager of SriLankan Catering, said: "All credit goes to the hardworking team at SLC, which also won Presidential Export Awards in 2012 and 2013. The experience and talent of our team was aptly demonstrated recently when SLC won overall 6th place in the entire island and brought home 29 medals (7 Golds, 10 Silvers and 12 Bronzes) from Culinary Art 2017, the premier international exhibition and competition organized by the Chefs Guild of Sri Lanka."

SriLankan Catering is the exclusive in-flight caterer for all airlines that operate to BIA and serves over 6.3 million meals annually. It operates from its sophisticated full flight kitchen at Bandaranaike International Airport, which has a capacity of 25,000 meals per day. SLC also carries out a wide range of subsidiary operations including operation of passenger lounges and public restaurants at BIA; providing catering services for lounges operated by other institutions at BIA; management of the Serenediva airport transit hotel at BIA; the Semondu specialty restaurant in downtown Colombo's bustling Fort business area; the Vanilla Pod boulangerie and patisserie;and the Aero Clean industrial laundry that serves airlines, hotels and other organisations around Katunayake and beyond.

SLChas gained a reputation for its high standards in quality and food safety and holds no less than four global certifications - ISO 9001:2008 for Quality Management System; ISO 22000:2005 for Food Safety Management Systems; HACCP-Codex Alimentarius for Food Safety Assurance; and ISO 14001:2004 for Best Environmental Practices.Among its many accolades are several Mercury Awards presented by the International Travel Catering Association (ITCA) and National Energy Efficiency Awards.