---

The Centre for Indo-Lanka Initiatives at the Pathfinder Foundation (PF) and National Maritime Foundation (NMF) based in New Delhi, India, signed a memorandum of understanding (MoU) to enhance bilateral cooperation between the two think-tank organisations engaged in academic research.

The scope of this MoU is to embark on research activities on subject areas of maritime strategy and security studies. The two research institutes will collaborate in conducting joint seminars, conferences, symposia and workshops to enhance knowledge, sharing experiences and best practices of relevant stakeholders in both countries.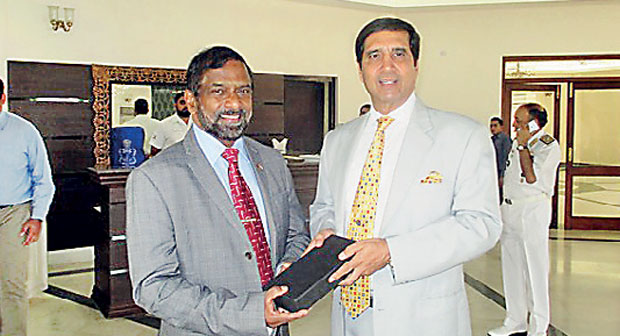 The PF and NMF will also jointly publish journal articles and research papers on mutually agreed subjects and have reciprocal exchange of visits by officials and researchers for discussions, seminars and conferences.

PF Centre for Indo-Lanka Initiatives Director Admiral Dr. Jayanath Colombage (Retd.) and NMF Director Vice Admiral Pradeep Chauhan (Retd.) signed the MoU on behalf of their respective organisations.

The Indian Ocean has become the key ocean for energy, trade and food security in the 21st century. There is a major world economic shift taking place upon the waters of this ocean as 'Asian Powers' are emerging as new economic powers. The rise of China to the number two position and India to the number seven position in the world economic order in gross domestic product terms is a clear example of this economic shift.

The Indian subcontinent is positioned at the centre of this most important ocean in this century. India, with a nearly 7,500 kilometres of coastline, the fastest developing economy and the strongest military power in the region, and Sri Lanka, with its geostrategic location, both need to play a mutually-supporting role in maintaining freedom of navigation and ensuring the sustainable exploitation of resources in accordance with the concept of the blue economy. There is a rationale to engage in academic discussion on maritime security in the Indian Ocean with a view to develop a policy framework for the attention of policymakers in India and Sri Lanka.

The PF and NMF have planned to conduct their first bilateral conference in February 2018 focusing on developing a platform for analytical and innovative discussion on maritime security in the Indian Ocean. This conference will lay emphasis on non-traditional maritime security cooperation, including with regard to capacity building and capability enhancement.

Special emphasis will be paid on an assessment of the maritime security and safety risks from prevailing and projected threats, cooperative maritime security endeavours at the political, operational and local levels including Maritime Domain Awareness (MDA) and coordinated national positions at regional, multilateral forums such as the Indian Ocean Rim Association (IORA), Indian Ocean Naval Symposium (IONS) and Galle Dialogue.

The NMF, New Delhi was established in 2005 as the nation's first maritime think-tank for conducting independent and policy-relevant research on 'matters maritime'. Since its inception, the NMF has grown from a fledging organisation into an established intellectual institution with robust academic linkages within the country and overseas.