---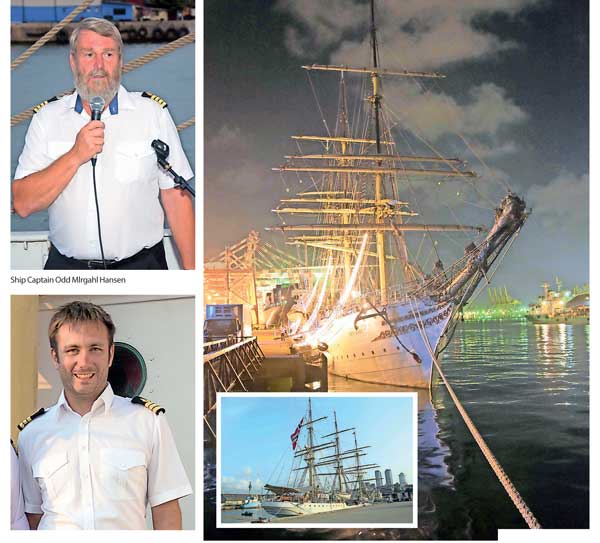 By Zahara Zuhair
Described as a 'high school at sea', the world's oldest sailing full-rigged ship, SS Sorlandet (meaning South) from Norway, which is used for academic purpose at present, visited Sri Lanka for the first time recently on its way on a two-year circumnavigation of the world.

The tall ship has been used as a symbol of Norway as Norway has always been a seafaring nation.
On board, with normal school and physical activity, they provide the students the chance to learn how to live in close quarters and integrate well into Norwegian society. The ship set sail from her home in August 2015.

During the visit they opened the ship out to a reception, to give the flavour of Norway to Sri Lanka to foster closer ties.

Taking through the history, the ship's Chief Officer Ben Gowland told Mirror Business that the ship was built in 1927, with the purpose of training young people.
"It belongs to a town in Norway called, Kristiansand. It was a ship owner who gifted it to Kristiansand. The ship owner was a merchant in marine itself. He noticed young people in the Norway didn't have much training to go to the sea, so he wanted to fix that – to give better education. So he told here is the money go and build the training ship and to help to train the young people. After the ship was built, they started to train people," he said.
Ship owner O.A.T. Skjelbred built Sorlandet for 25,000 sterling pounds and the ship's maiden trip was to Oslo.
"Four years ago, we started to do school programmes on board and this is our second year of our academy. It's like a high school at sea. So the students learn about sailing of ship; they go around the world. But they also do regular classes here; they do physics, maths, biology; they learn normal school lessons. They are on board here for 10 months. They don't go home," he said.
He further said that they teach the students how to work as a team, how to live with people with different cultures and nationalities. "That is what we teach. It is very different from a normal school, so this school will take you around the world to see all the different cultures," he said.
He said that this year, the boarding school of sea has 51 students and last year it was 40. "It is like an international school. Last year we had people from all over the world. We had Mexicans, Canadians, Norwegians and a guy from Sri Lanka. This year one student from Hong Kong, everybody else from Norway," he said.

When asked about how they do the maintenance, he said, "It is done with a lot of planning. We plan our maintenance every three years ahead. There are things we have to do every month, things we have to do every year. We follow a plan and if we see something is breaking, we fix it right away" he said.
He said that the school decides a destination on the culture and how much experience it would give to the students.

"It is not easy to get to this part of the world (Sri Lanka) but the culture is good. All the places we visit are unique for some reason. Christmas islands was our last port, which is quiet hard to get to. We were in Pacific Islands, which is hard to get to but has a unique culture around it. After this, we are going to the Maldives, Brazil, the Caribbean and back to Norway next year," he said.
"In Sri Lanka, the students have been on field studies. They have been on safaris. They saw the elephants, temples, so they have been exploring, seeing different things," he said about the students' experience here.

Elaborating on the speciality of the ship, which is 64 meters in length and weighing over 800 tons, Gowland said, "The type of rigging, the type of the ship, has three masts, each mast has square sails, so it's a very specific type of ship. It's the oldest of this kind in the world and still it's sailing. There are older ones but they don't work anymore."

He noted that the ship is operated manually. "Everything you see here is all manual. There is no machine which helps us to sail. It is all muscle power and team work. Without everybody working as a team, nothing will happen. There is a lot of team training here. That is one of the unique features of a ship like this," he added.
Being the sister to Statsrad Lehmukhi and Christian Radich, this ship is the oldest of the three Norwegian tall ships, which are called the 'Great Trio of Norway'.